Work from home and pandemic life mean living in wire-free bras and athleisure for a lot of folks. As the world slowly opens up, how can you continue to wear your favorite cozy things out in the world? And can those cozy items really be sexy or attractive? We all know some casual clothes are big on comfort and low on the style factor. So for one of my looks for the Out on the Range photo shoot with Curve, I decided to put myself up for the challenge! I wanted to find a look that could be both sporty and cool, cozy and stylish, inclusive and well made. Ta-da! Bike shorts with sheer panels and a snazzy, wire-free bra to the rescue underneath a VERY snazzy dress. And since I'm in Oklahoma, I had to pair it with cowgirl boots and a hat. Had to.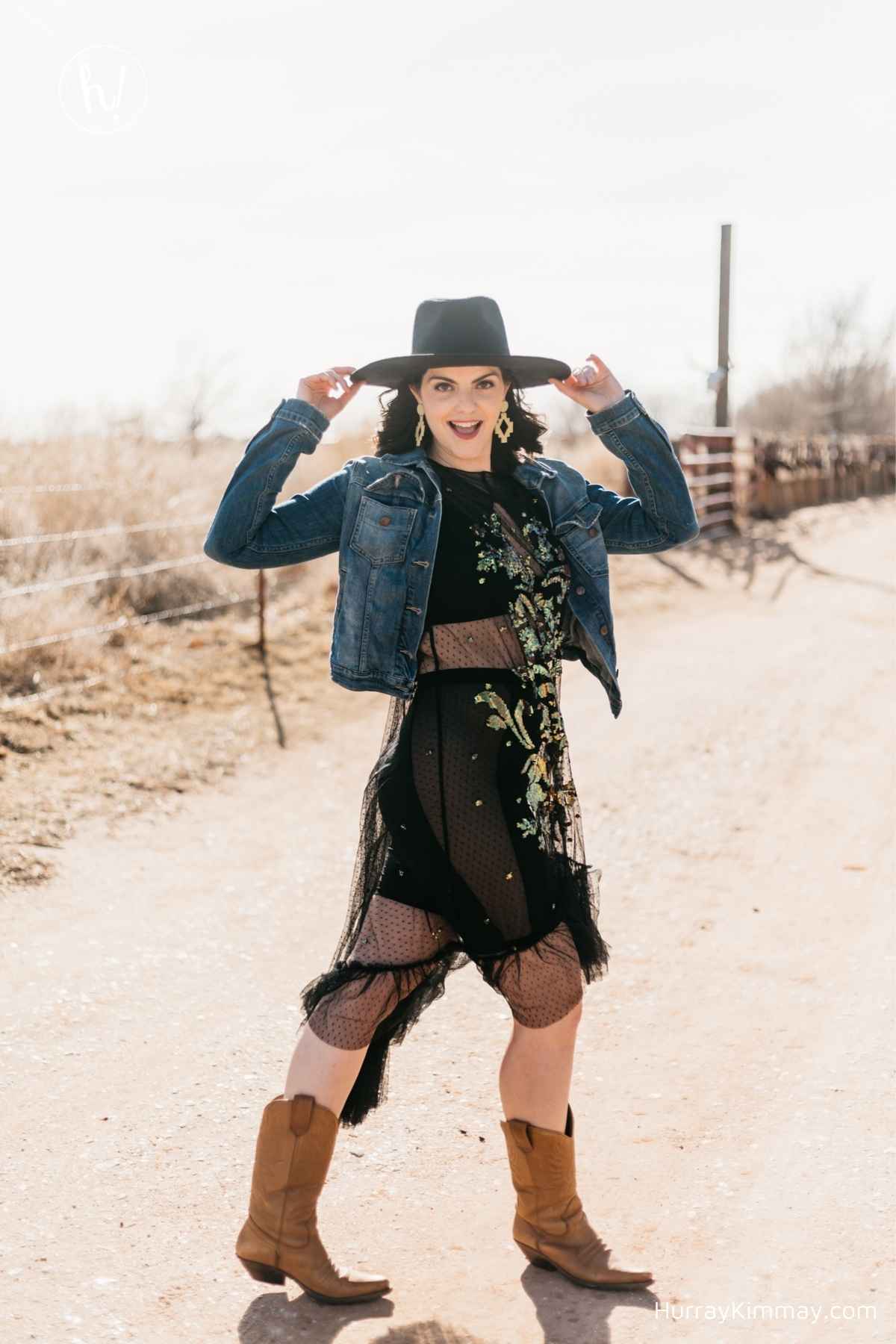 Side note: for this shoot I worked with several well-known brands, most of whom I've partnered with before. That meant I knew their product and sizing. In this case, the featured brand here, Voluptas Rose, is brand new! I was so excited to connect with an indie brand owner that is just starting out. So after I used a fine eye to check out her offerings, we also jumped on a video call to get to know each other. It's SO important to me that when I share brands (especially bra and intimates companies) that I really know and love not just their product but the company! With small brands like this, it's even easier to get to know the team 😉 And it's such a delight to partner with (and support) small, women owned businesses. Hurray!
OK enough chatter, it's time to shop! Below you'll find all the details on how I created this look right here in rural Oklahoma! Hay bales, train tracks, and dirt roads are optional to pull off this funky look 😉
Psst! Some of the brands linked are proud partners of mine or I may get a small thank you if you purchase through me. Your purchase through those links helps a lot in keeping articles like this coming your way. Either way, I always share items that I truly love and can help you say hurray!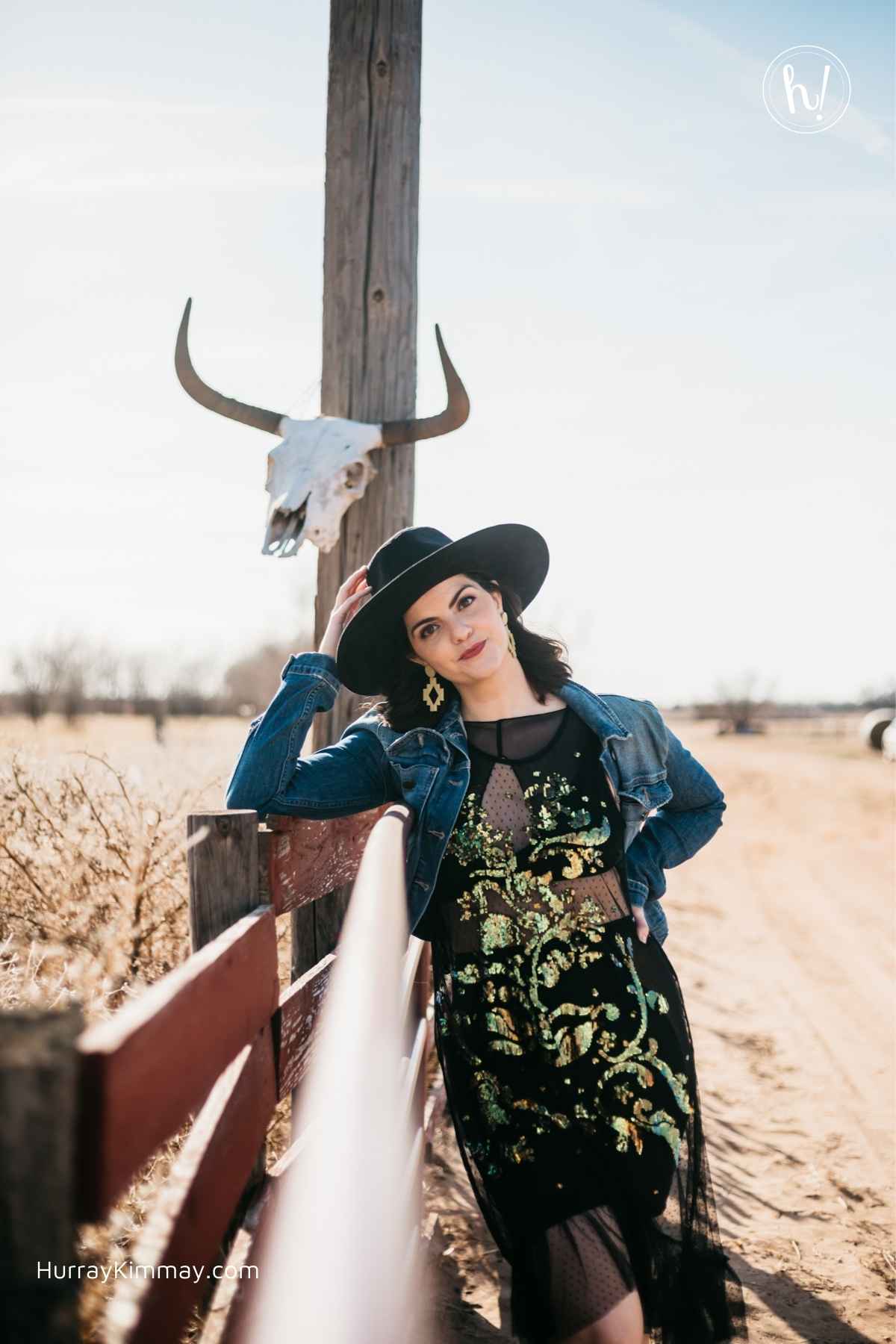 Shop The Look Featuring: Voluptas Rose
This look includes a really daring sheer dress but you can pair bike shorts underneath just about anything – a mini dress, a slightly sheer dress, a dress that has a tendency to flow around in the wind, you name it. Shorts like this are great for preventing thigh rubbing (ugh, the worst) but these also have that cool sheer panel for a little style so you might want to let them show! Get to know the wire-free bra and super cool shorts from new brand, Voluptas Rose, below.
Voluptas Rose – Dani Shorts
Ultra-high-waisted with a longer leg – excellent for modesty or coverage, preventing thigh chaffing, and adding style!
Sheer mesh sides add so much sass (go sans underwear for a clean look or let a pair peek through)
Soft antimicrobial, moisture-wicking fabric with 4-way stretch and an elastic top
Sizes 1-10 fits 00-20, or XXS-5XL
I was in between the 4 and 5, and found these to be more generous in the waist than the hips
Made in the U.S.A.
Voluptas Rose – Cait Bra
Wire-free cup with a sheer, ultra-soft mesh overlay and peekaboo look (great for plunge or sheer front tops)
Bonded seams on cups for smooth silhouettes
Soft, 4-way-stretch for ultra-comfortable, all-day wear
Antimicrobial, moisture-wicking fabric to help you stay cool and dry
Adjustable, reinforced wide inner straps and adjustable back
Band sizes 32-44, European cup sizes B-H!
I found this to be generous in the sizing! I wore a 34D but may have been best in a 32E. Test it out for yourself!
Made in the USA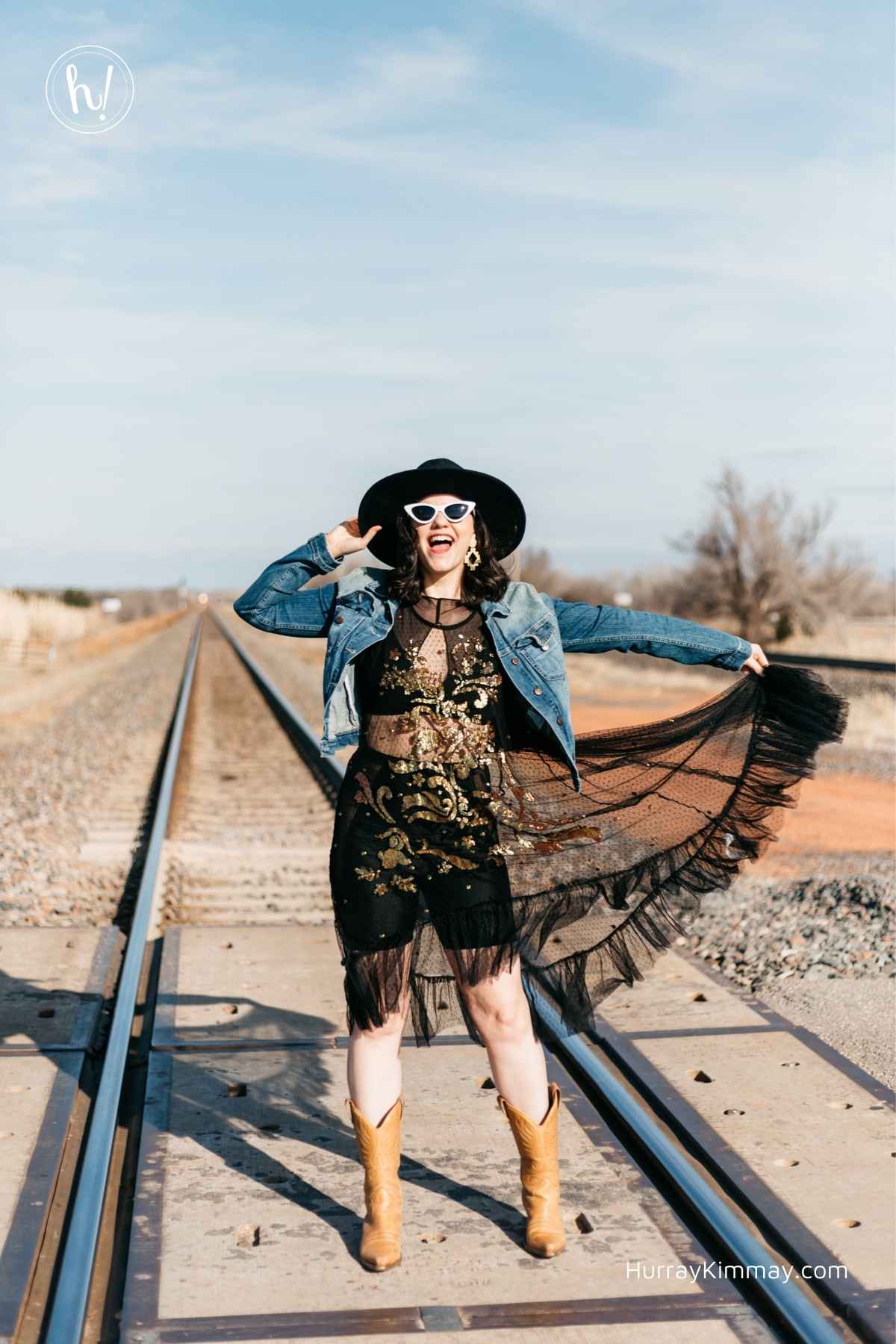 Similar Items to Buy & Try
I rented this amazing sheer Free People dress from Nuuly. Want to rent clothes, too? Use my Nuuly link to get $10 off your first rental (and I get $10 towards my next one, too!)
To keep things from getting TOO over the top, I paired a denim jacket that was left at a former shoot I produced, cowgirl boots I bought over a decade ago at a Nine West in NYC, some white cat-eye sunglasses that I truly can't remember buying, and some funky earrings I borrowed from a local shop in town, Homestead Decor + Gifts. To top it all off I wore a hat I picked up during a trip to LA. Hair and makeup by yours truly.
Lulu's – Superstar Cat-Eye Sunglasses
Free People – Night Moves Sequin Maxi
Free People – Rumors Denim Jacket
Off the Shoulder Sheer Dress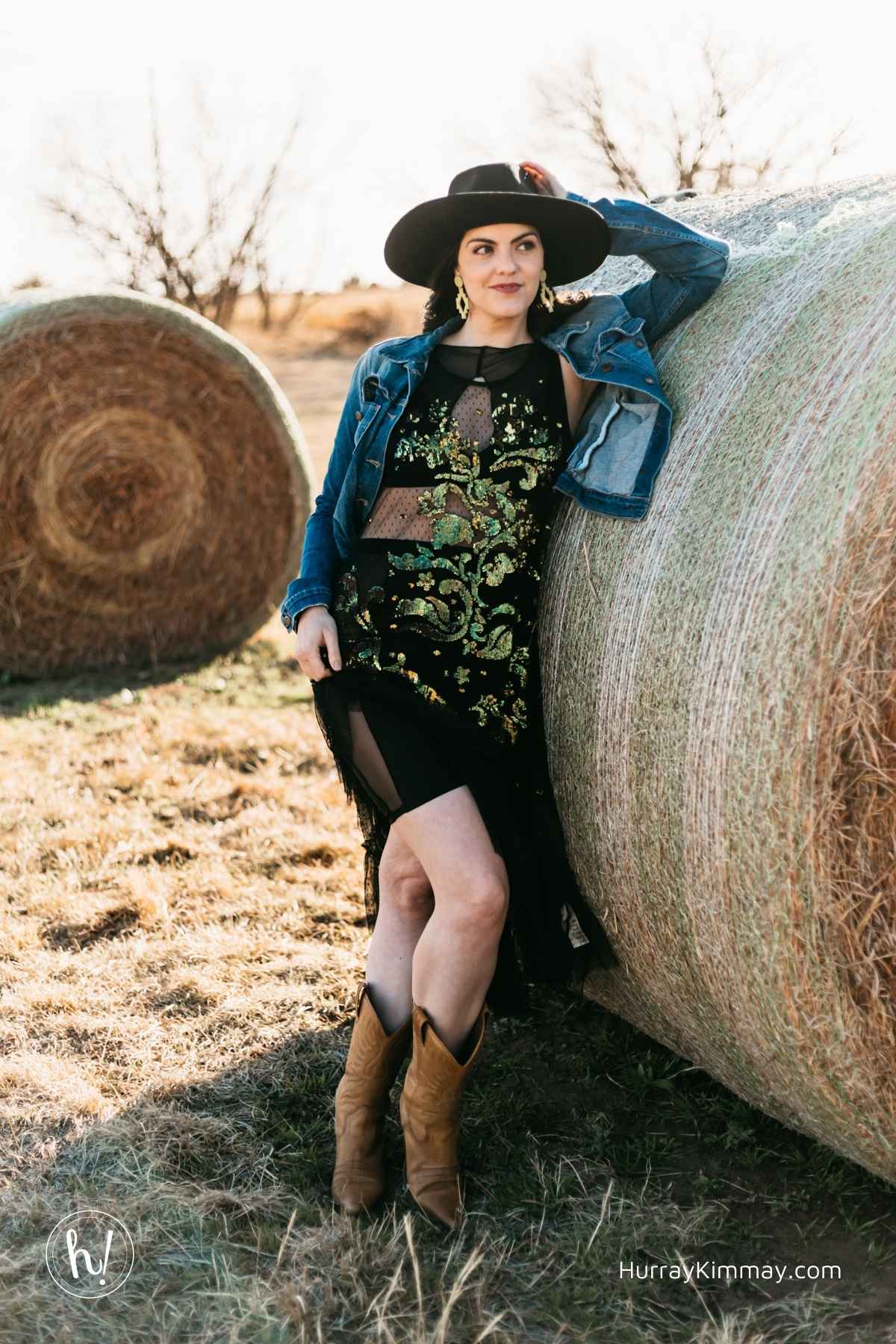 Your turn:
Would you wear a sheer dress like this one? Do any of these items make you say hurray? Tell me everything over at
@hurraykimmay
on Instagram so we can say hurray together!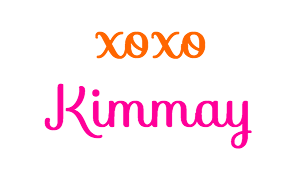 Credits:
This photo shoot series was made in collaboration with Curve Expo. Production, modeling, and hair/makeup by yours truly. Photos by Brooklynn Alexander. No photoshopping or editing my face or body – ever! Special thanks to: Natalie Laverty, Bethanie Halligan, Annette Pierson, Martha Symons, and
Homestead Decor + Gifts
, and The Ranch at Woodward.