And we're back for another installment of Dopamine (Under) dressing! This special collaboration between moi and Curve's Revealed Magazine is a photo exploration of dopamine dressing in a new way. The trend has made its mark in popular fashion as a way to boost the feel-good chemicals in your brain when you wear fun colors and bold print. And undergarments, sleepwear, and swimwear have the same (if not even better) effect!
Personally, I think we need a new category of sleepwear that can also be worn as daywear, or a cover-up, or loungewear. Is there such a thing as "can wear anywhere-wear"? If so, that's the category that would most effect how we feel, because we wear it so often and in so many different ways. Enter this new shop the look feature and something I can't wait to show you. Fun colors, funky patterns, and a big dose of hurray are coming your way. Get to know it below!
Want to see the full Dopamine [Under]Dressing editorial spread? Click below!
Psst! This post is sponsored by Wrap Up by VP. I'm so grateful to share them with you. I always share items that I truly love and can help you say hurray.
This is the final portion of our 7 part series and it features: Wrap Up by VP! This brand was new to me and suggested by my colleague (and an editor of Revealed). As soon as I saw their beautiful sleepwear, stunning caftans, and luxe coverups I was hooked. Then I had a brief call with their owner and that was it. I love to support women-owned businesses that are focused on making beautiful things to wear, and this brand can be worn in so many ways! They carry robes, caftans, pajamas, and more and their vibrant and flowy designs make them so perfect as a bathing suit cover up. Whether it's a tropical location or your own living room, the prints on these items will send your dopamine levels up a notch.
Personally, I love the flowing movement you get with a caftan. And while I love the idea of a long one (and full disclosure I actually HAD to keep a long one from this brand and now wear it around my apartment while working from home!) the versatility of their short design really made this one stand out. It can be worn as a dress with heels and the belt. Or wear it as a coverup by the pool. Use it as a robe while you're getting ready. Or just lounge around feeling glamorous in it. Totally up to you. And please note, this pretty pink print is just one of the many (and I mean many) gorgeous prints that this brand has. And each one is unique – with the print winding its way through the fabric in a new and special way each time.
Shop this style and many more and get 10% off with code CURVE10 – valid until March 31, 2023.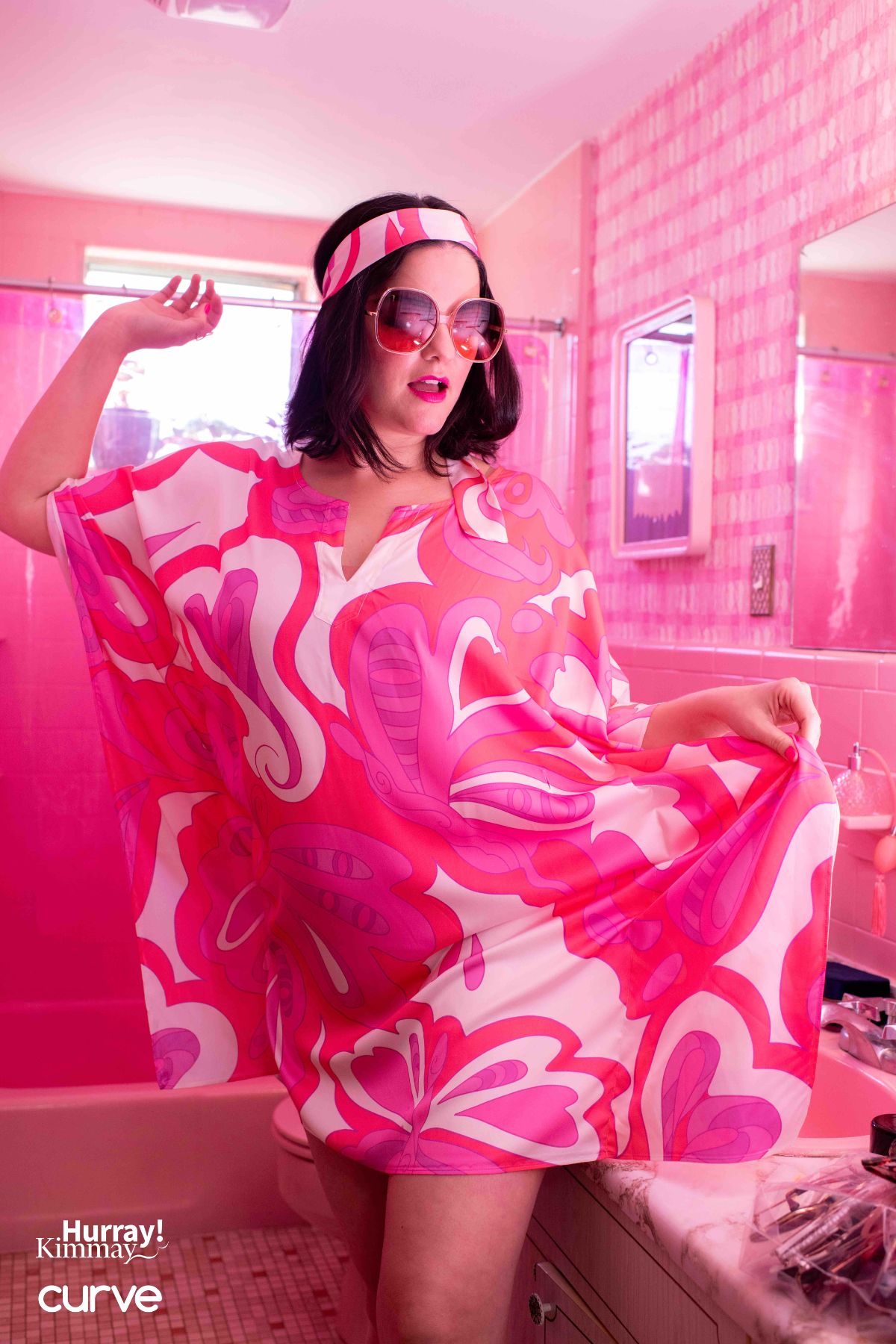 Wrap Up by VP – Pink Martini Short Caftan
Short caftan can be worn for several occasions
Luscious poly silk is soft and flowing with a gentle drape and feels great on the skin
Lightweight and breathable makes it appropriate for several climates
Wear it loose or cinched at the waist with the detachable belt (or wear it in your hair like I did)
Machine washable makes it easy to care for
Made in the USA
Several prints and silhouettes available
Sizes S/M, M/L, L/XL (I'm wearing the M/L)
Shop this caftan and many more sleep and loungewear options use code CURVE10 to get 10% off. Valid until March 31, 2023.
Refillable Perfume Bottle
Vintage 70s Square Sunglasses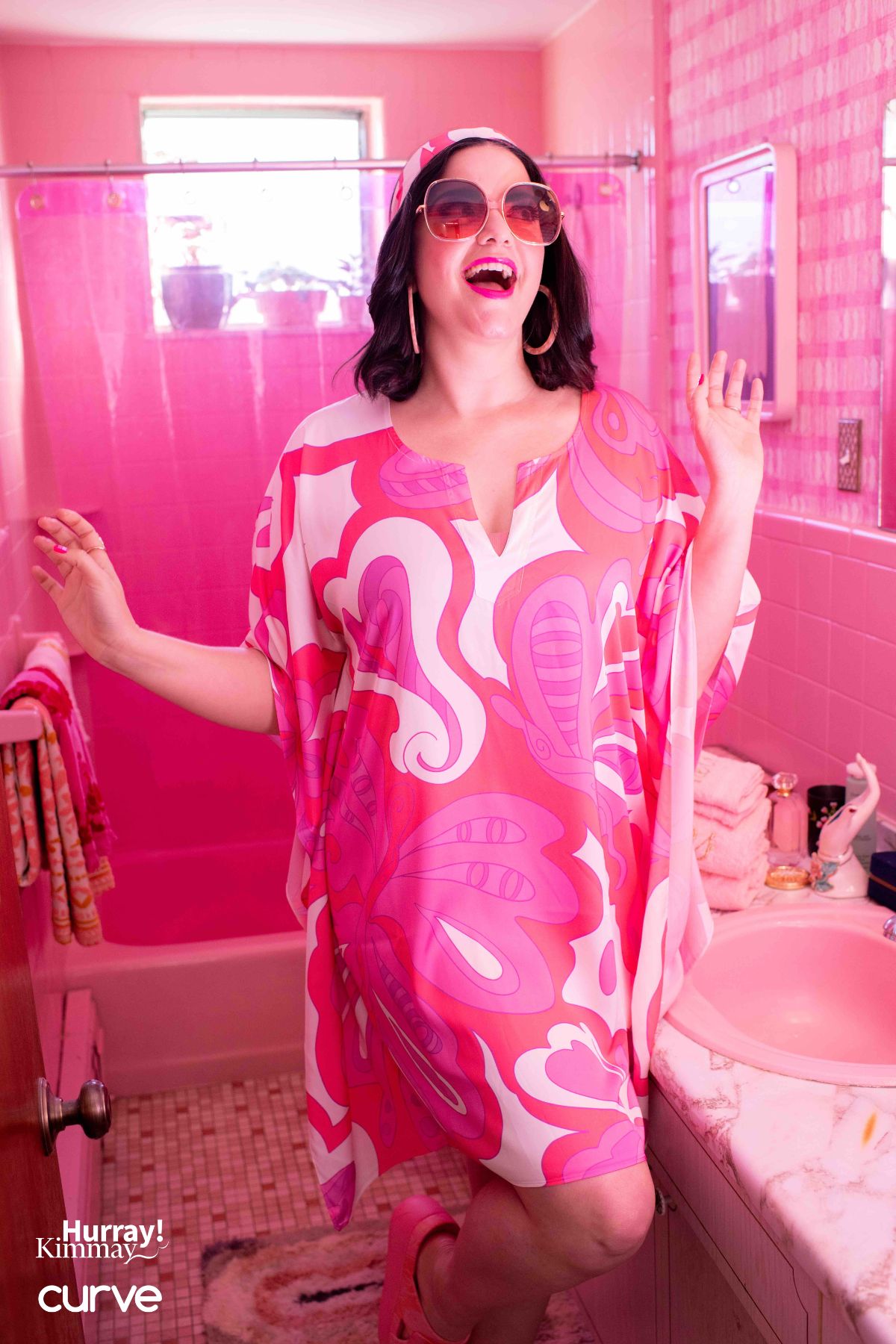 Credits: Photos by Holden Blanco at the South Philly Time Capsules in Philadelphia, PA. Hair and make-up by Beauty Marks Creative. And huge thanks to Curve and Revealed magazine and the team for partnering on such an amazing project! As always, no airbrushing or photoshopping my face or body. What you see is what you get!