Are lingerie subscription boxes really worth it? If you've been thinking of trying a lingerie subscription box, you're probably curious if it's a good idea, a waste of money, or if they'll really have bras and lingerie that fit well and look great. Right?
I love this question! And I don't blame you for your skepticism. Lingerie boxes often get a bad reputation for trapping their customers into hard to cancel plans, or providing cheap, ill fitting garments into the box. Who wants that? No one!
That's why I'm thrilled to introduce you to Aurelia, a new small, woman-owned lingerie subscription service that puts so much care and hurray into each box they send their way. Curious if it's a match for you? Keep reading and see a few examples of the items you can get in your box, too!
Psst! This post is sponsored by Aurelia, a proud partner of mine (so grateful to share them with you!) I always share items that I truly love and can help you say hurray!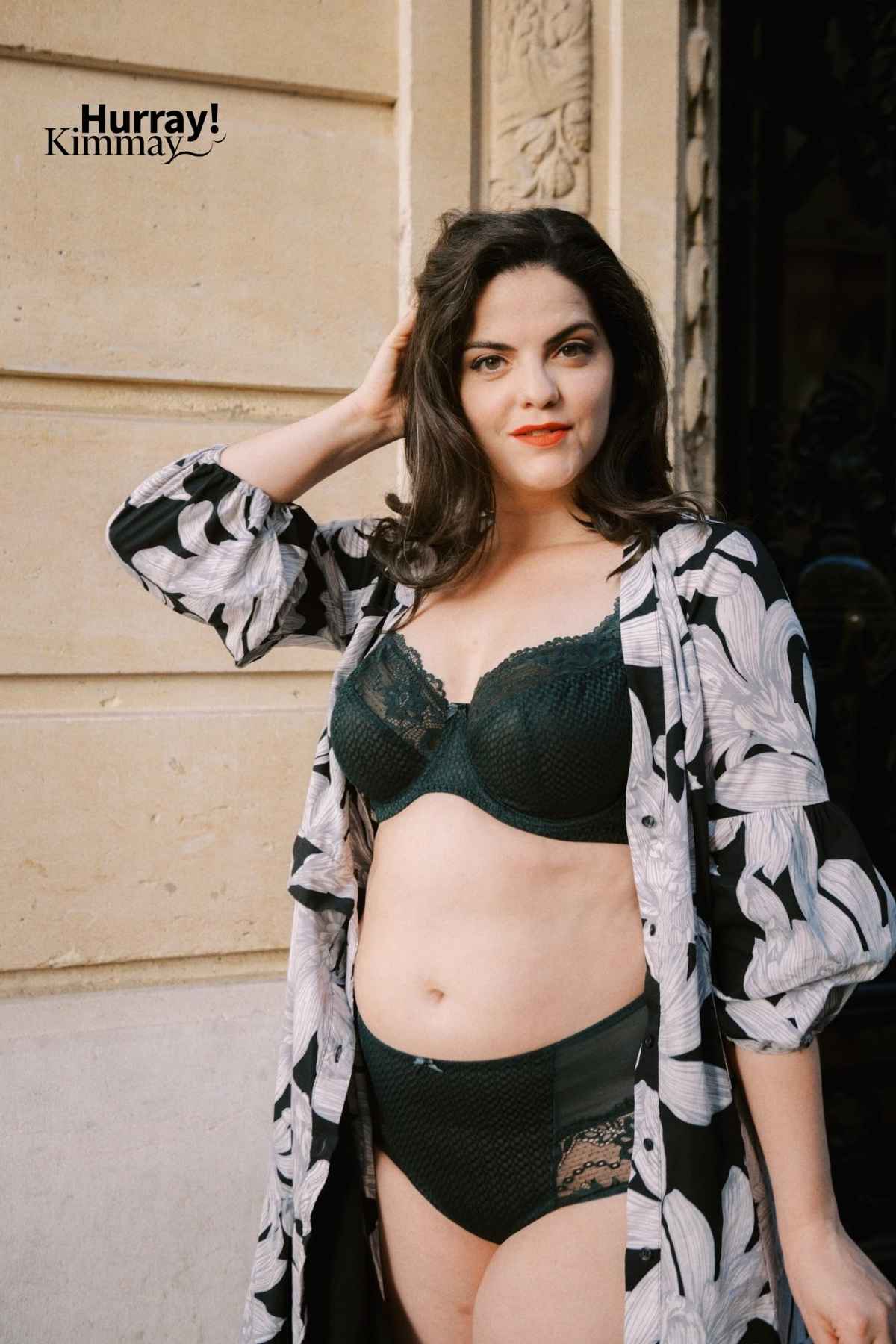 Pros of Lingerie Subscription Boxes
Lingerie subscription boxes have pros and cons (or hurrays and what the heys!). So let's add it up!
Save time, effort, and money. I love to shop for lingerie and bras. But I know lots of folks find it overwhelming. Not everyone thinks the bra department is fun! If that's you, you can skip the trip to the store and all the effort of selecting, trying on, and buying new pretty things and let a great company like Aurelia send them to you! If you're an online shopper, you know the risk that what you think you ordered may not be exactly what you get. Ugh! Then you're returning and sending back things over and over. Because Aurelia hand selects great brands, you can trust that whatever arrives will be worthy of wearing. Plus you'll pay one, even price for each shipment. (Oh, and shipping is free!)
Test out new things. A lingerie subscription box, especially one with a dedicated stylist like those at Aurelia, allows you to try new styles from the comfort of your own home and to explore lingerie brands you might not have ever heard about! They do the research and selection, you get to test it out. This is especially fun if you're looking to be adventurous, and the same is true for more practical styles and companies!
A regular confidence boost. We are busy, hard working people with a lot on our minds. Lingerie shopping is sometimes last on the list of priorities. And yet, when we do try on something gorgeous and well fitting, we get a boost of confidence and hurray in our day! Imagine sitting back and letting someone hand select stunning little somethings and sending them your way without you worrying about it. Every so often a special delivery of confidence could land on your doorstep. Um, yes please!
Make a great gift. Not sure how to shop for someone? Don't want to put the burden on them of picking out times with a gift card? Give them a surprise subscription box! They just fill out a quiz and their preferences and sizes, then a personal stylist will pick the items for them. It's a win win! Plus, they'll get a loving reminder that you adore them every now and then.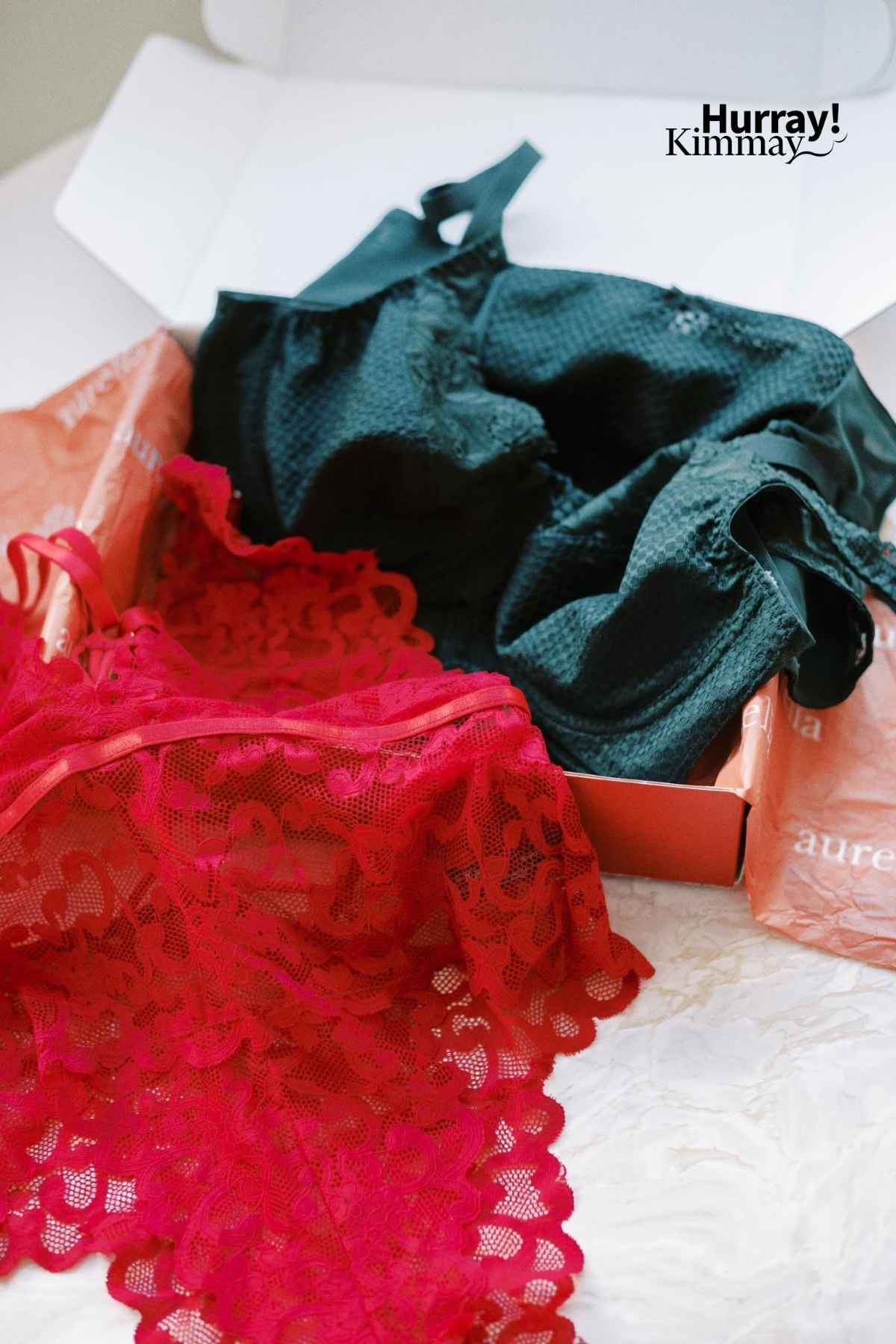 Cons (and myths!) of Lingerie Subscription Boxes
While there are a lot of great reasons to try a subscription box, there are several reasons why you might not want to. Here are a few common reasons.
It's hard to cancel a subscription. This is a common reason because some of the more popular boxes have a reputation of being difficult to pause or cancel. I've had that experience myself! Which is why Aurelia's approach is so welcomed. It's a small company with real, helpful folks and they make it possible to pause or cancel your subscription without trying to trick you into sticking around. Of course, they hope you love your subscription! But if you ever need to update it, you can.
The items are low quality. I've tried a box in the past that had great deals on lingerie, only to find out the deal was on poor quality products. While it was fun to test out some funky styles, I ended up not wearing the items often because they were scratchy or not very sophisticated. I'm pleased to say that Aurelia offers higher quality brands – many of which you've seen on this very website! In fact, they carry a few of my favorites.
A few of the brands you might find in your box: Blush, Montelle, Fleur't, Elomi, Freya, Gossard (like the peach colored bra I'm wearing here!), In Bloom by Jonquil, Playful Promises, Fitfully Yours (like the green set I'm wearing here!), Oh La La Cheri (like the red bodysuit in the box), Panache, Parfait, Midnight Bakery, Cake Maternity, and many others. Plus they're open to carrying more and welcome you to shoot them an email and so they can try to incorporate your favorites into their list.
The items they send don't fit or aren't your style. It's hard to trust a subscription box company when they don't really get to know you or what will fit. Luckily, Aurelia is different. First, you'll fill out a style quiz and tell your assigned stylist exactly what you want, OR let them surprise you. You can also update your profile online with new sizes or preferences. And if you don't like something you just tell your stylist within 7 days and they'll include a replacement item in your next box. That way they really get to know what you want, and you get gorgeous, new lingerie from premium, quality brands right to your doorstep.
My favorite part? With each subscription, they'll send a bra fit kit with fit education, a measuring tape, and more so that you and your stylist can work together to find the perfect fit. (Plus you've got my help over here on Hurray Kimmay!)
In the end, Lingerie Subscription boxes might have some pros and cons, but Aurelia's pros outweigh the cons. By far.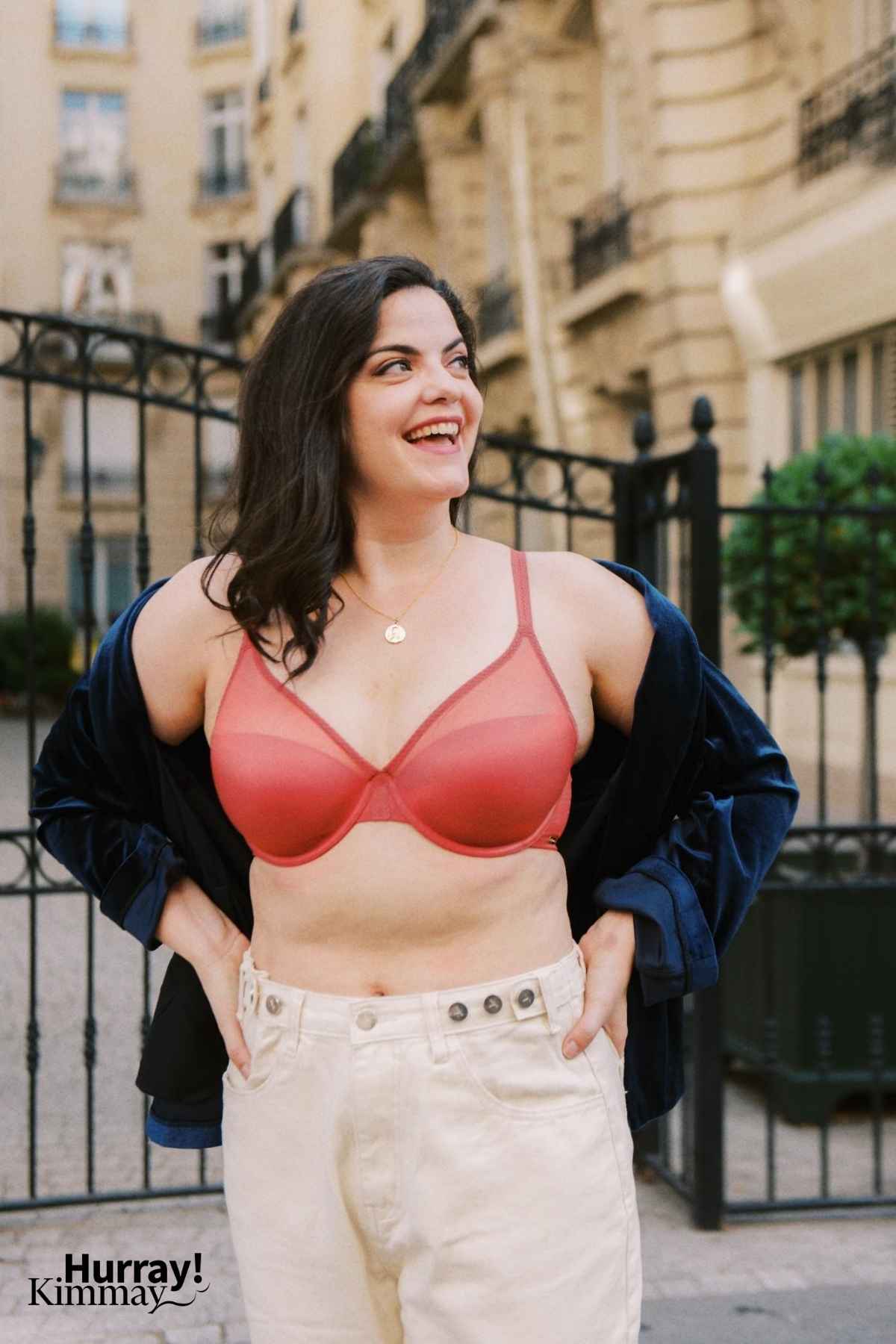 Buy & Try
Want to test out this amazing subscription box for yourself? Hurray! Use code HURRAYKIMMAY for 10% off a seasonal or monthly subscription. And be sure to fill out the quiz and let them know what kind of items you want to get. Psst! You can also buy a one-time box, bridal box, and more!
Pamper yourself or give it as a gift! Available in Monthly or Seasonal (every 3 months) subscriptions
Includes 2-3 premium lingerie and sleepwear items curated just for you by a dedicated stylist and discreetly delivered to your doorstep.
Skip the fitting room and the trip to the store.
Free shipping (for Canada, UK, and US)
Sizes: XS-XXXL. European/US Cups: A-M
Includes a bra fitting kit with:

How to Measure Your Bra Size
Sister Size Chart
Common Issues and Solutions
Lingerie wash bag
Measuring tape
Remember to use code HURRAYKIMMAY for 10% off a seasonal or monthly subscription!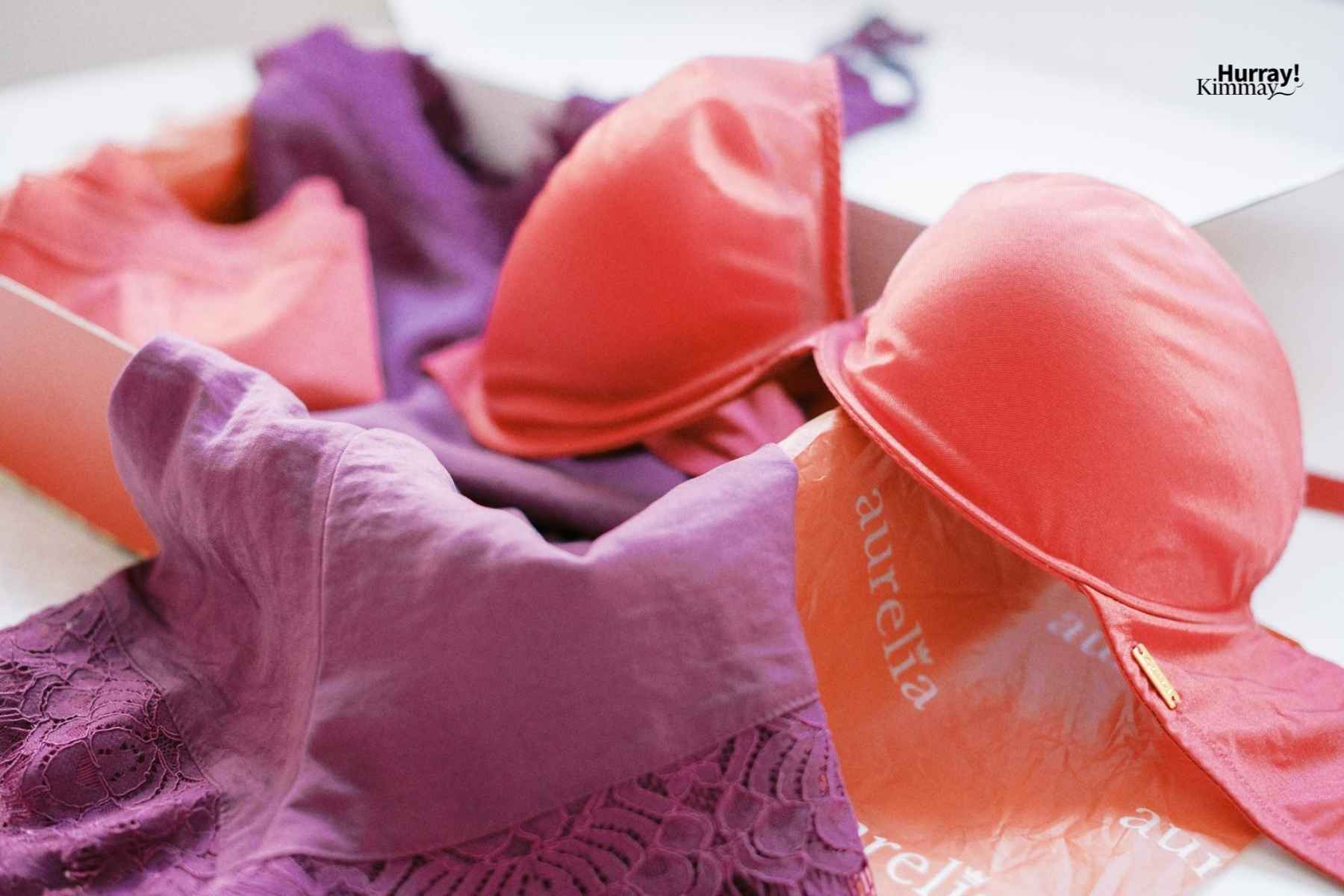 Your turn: How would you like to get new lingerie to try every month or every 3 months? Would you ask for something sassy, practical or both? And would you let your stylist surprise you?

Credits: Photos by Paige Gribb. Makeup by Joleen Emory. Shot during a #HurrayVacay in Paris! No airbrushing or photoshopping, ever.