I love to be cozy and stylish. I don't think you have to give up one for the other. And you don't have to, either! A robe can be a great item to keep you comfy and covered up indoors, and you can get a two-for-one by styling it in an outfit to wear out & about!

Psst! Some of the items in this blog post were gifted or I may be a brand partner and receive compensation or affiliate income. As always, I only share what truly makes me say hurray!
In some ways, this style idea supports some of my main concepts that I teach in workshops and coaching sessions around the globe. See what I mean below.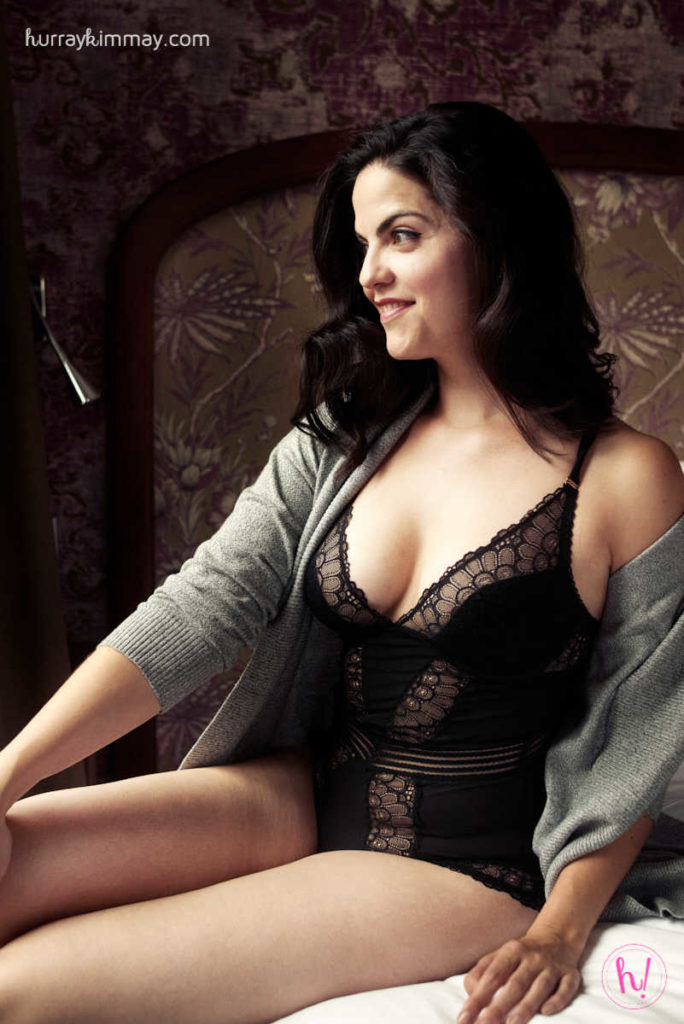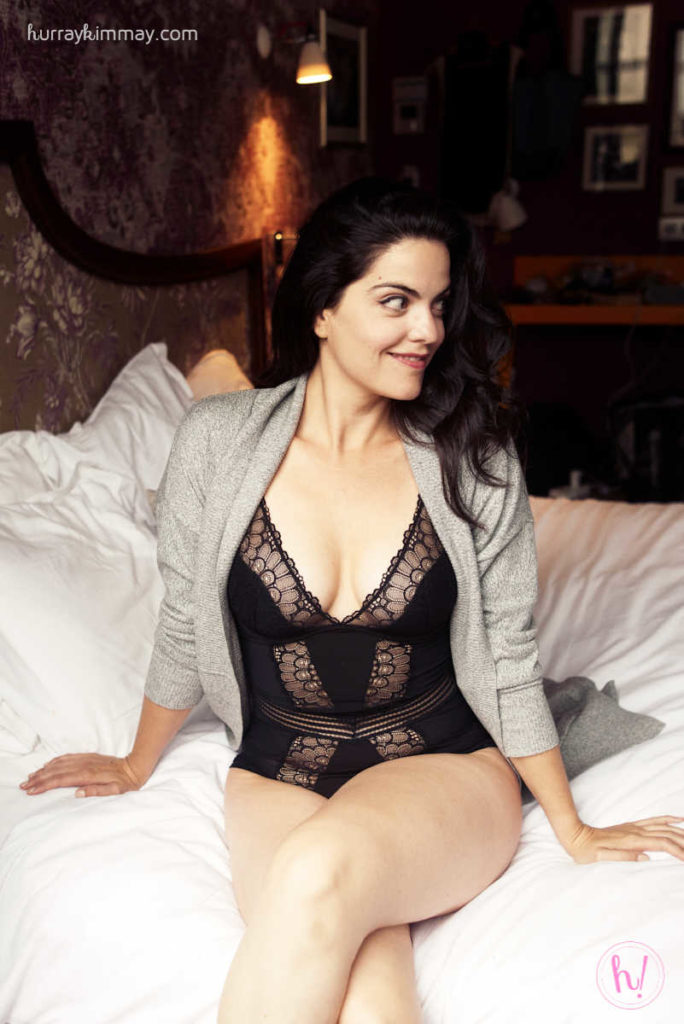 Here I'm wearing the Fleur't Cosmopolitan Luxury Belted Modern Cardigan and the Montelle After Dark Bodysuit while at Hotel Josephine in Paris. In the title image I'm wearing the same look plus a pair of pants from Lululemon – a great look for out & about! Photos by Nathan Alliard.
Adorn and Love Your Body: I always suggest you look for ways to adorn and love your body! Robes are often cozy or sexy (or both!) and so often our bodies crave those two things. Maybe it's a super soft robe that you may think is only great for lounging around the house. Bring it outside by pairing it over jeans like you would a cardigan. Your body will be so happy to feel cozy outdoors, too. Or, that sexy lace robe that you only wear for special nights in can become a statement layering piece over a cocktail dress or fancy date night look. Bonus: you can get more from those "only wear for special occasions" pieces by bringing them into the daylight!
Bring the Inside, Out: Also, I teach that it's OK to bring who you are inside out into the world for others to see. By "inside" I mean your relationship with yourself, your emotions, and the divine. It's who you are behind closed doors. Sometimes it can feel difficult to be your true self around other people for fear of what they will think, or how they will judge you. The practice of being yourself and loving who you are is a long one and so important for saying hurray. So think of this exercise of bringing your indoor clothes outside as a reminder to bring who you truly are inside out for people to see. 
Make Loving and Informed Investments: And finally, I encourage you to make loving and informed decisions about what you put on your body, and that includes sound investments! Being able to use one item several ways is great for your wallet, our environment, and your in home storage.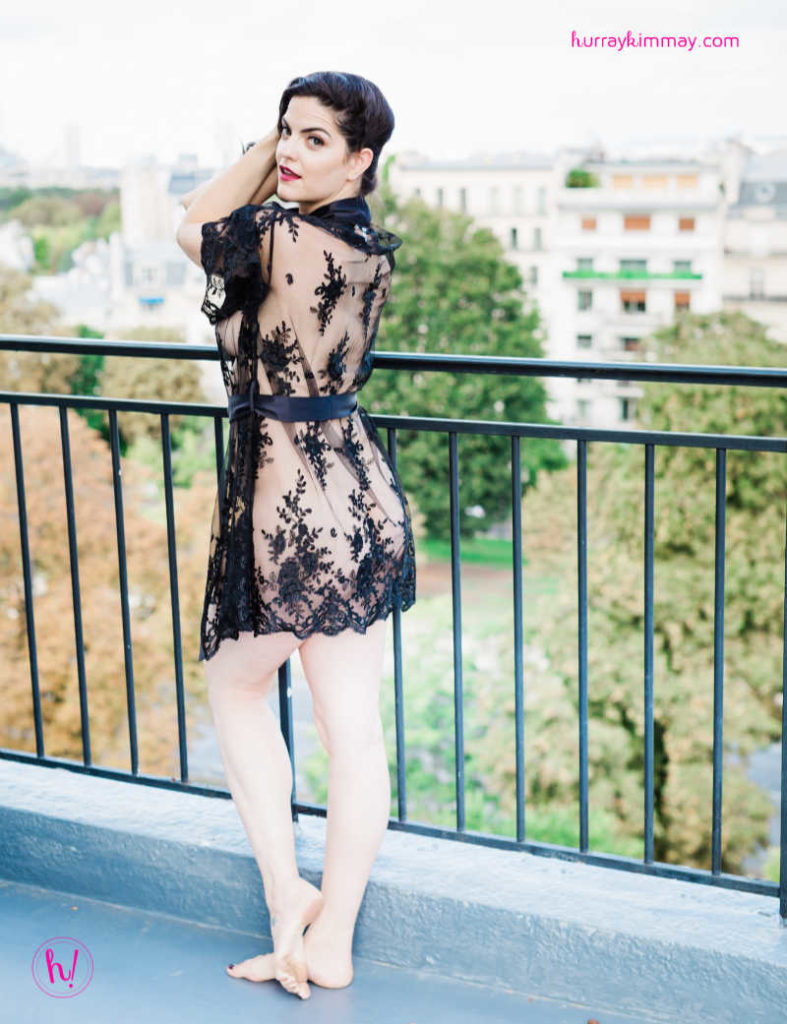 Here I'm wearing the Rya Darling Cover Up in black lace during a private moment on a penthouse balcony during the first Fall in Love With Yourself retreat in Paris. Photo by Laura Boyd.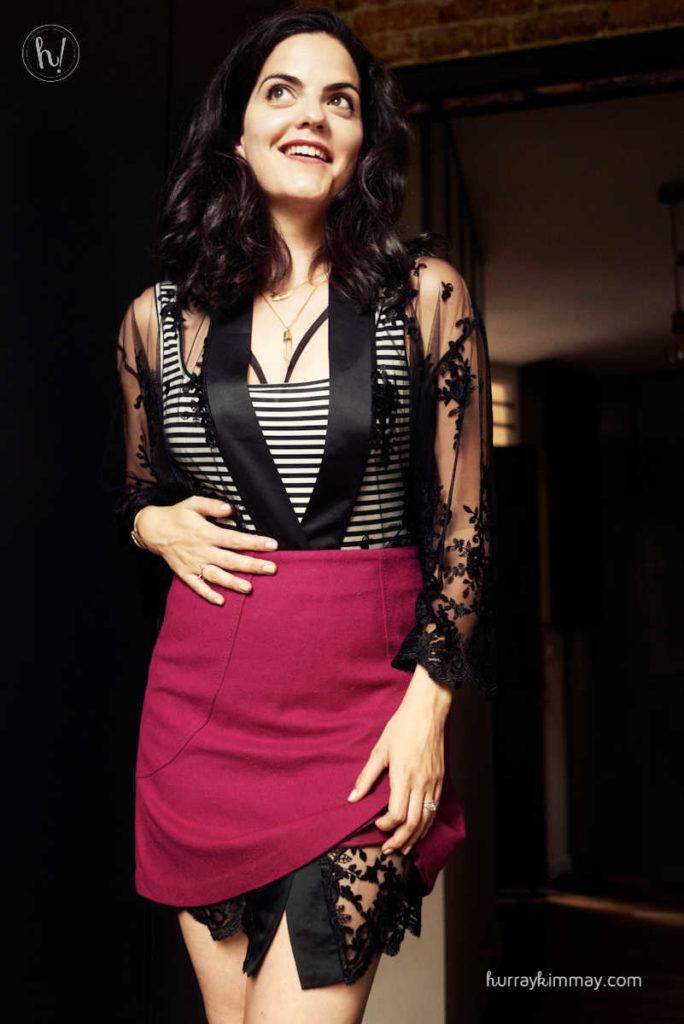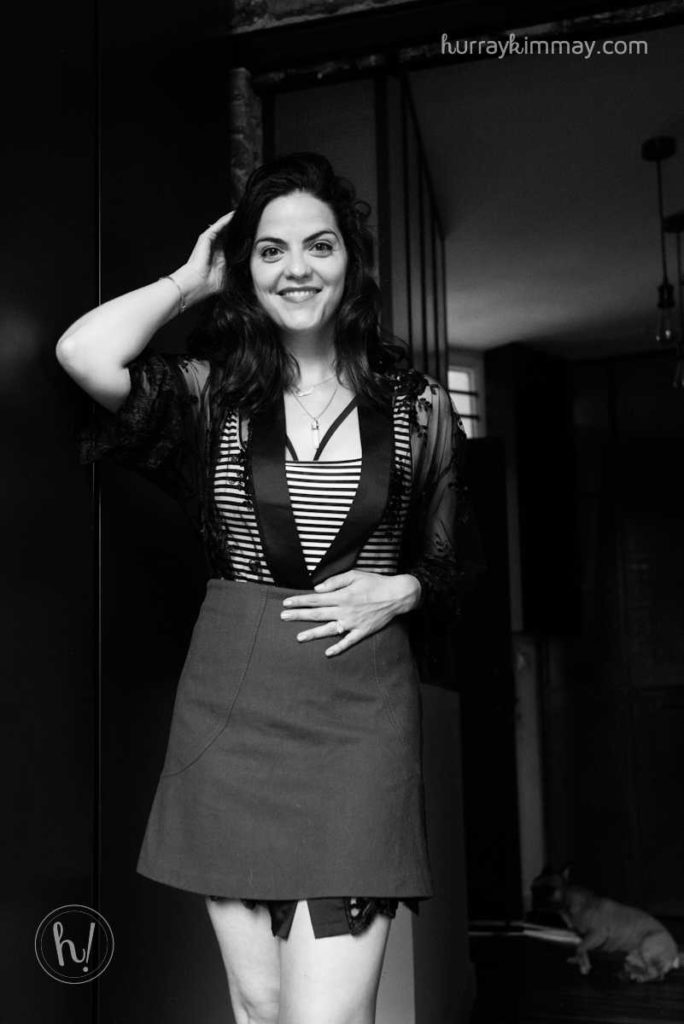 Here I'm wearing the Rya Darling Cover Up in black lace out & about with a bodysuit from Shein while in Paris. Style suggestion to wear this robe underneath a skirt and let the lace peek out from Paloma Casile, who also designed the bra I'm wearing. The skirt I bought at a secondhand shop in Queens, NY. Photos by Nathan Alliard.
Need a few pointers? These are few things to keep in mind when shopping for a multi-purpose robe that can be worn indoors and outdoors. And remember, wear what makes YOU say hurray!  
Material

: I loooove a fluffy, cozy robe BUT if you want to wear it indoors and out & about, you may want to look for a more versatile material. Think of something light and sophisticated like chiffon, satin, or lace for a dramatic, flowing look. Or find a robe made of jersey or sweater knit for a cardigan feel. Keep in mind if you want to wear this in replacement of a light jacket or want to wear it underneath a jacket, too. That will affect the thickness you choose!

Length

: Long robes can look like a duster cardigan, sleep jackets can look like a regular jacket and can replace a cardigan or blazer, and mid-length robes can look like a long cardigan or simple jacket. In most cases, the shorter it is the more versatile but it really depends on your look and style! 

Color and Print:

The holiday themed, snowflake pattern robe may have more of a PJs only vibe. Stick to solid colors or sophisticated prints that look more like clothing than loungewear. Classic prints like polka dot or stripes are usually safe best to test out, or venture into a boho print. 
Get creative! See a few of my style suggestions below and share yours here, too! To support you I've put together a few robe suggestions to buy and try yourself. There are several styles, sizes, and price points below and these are just the start! 
Robes to Buy and Try
(From the most luxurious to the budget-conscious)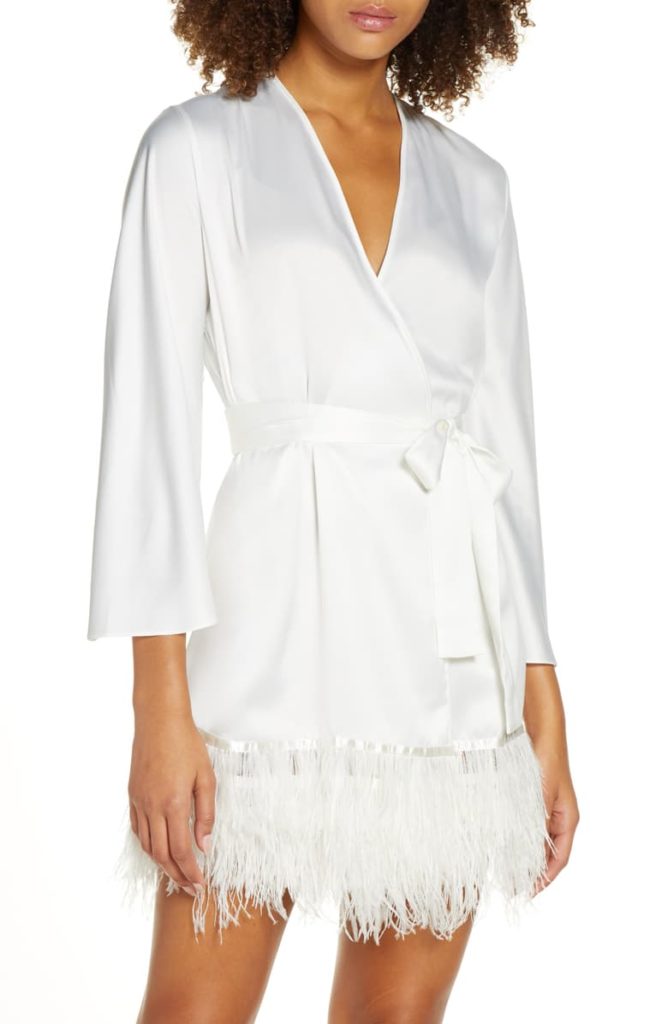 SWAN Cover Up​ – ​$198.00 from: Rya Collection
Oooh, I can just see this sassy little robe as a cocktail dress all on its own! Or of course, you could wear it over a pair of tuxedo pants with a black lace bodysuit underneath. As for indoors, this is the epitome of an old fashioned dressing gown without the long length. Hurray!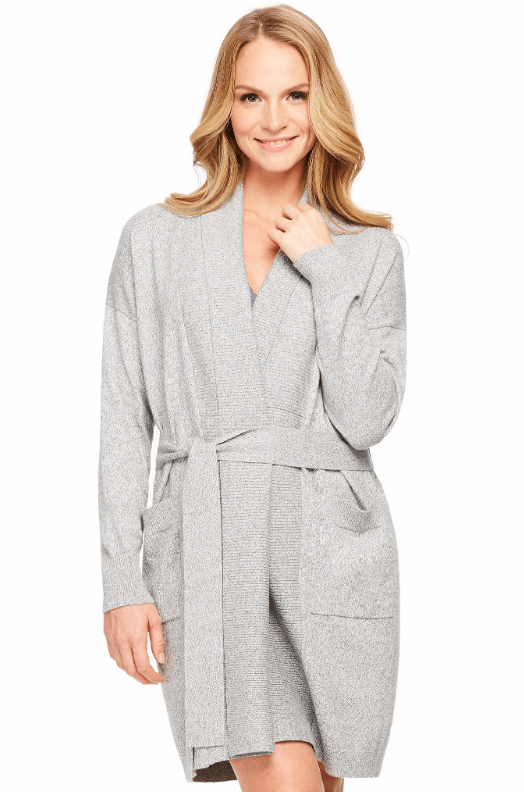 Cosmopolitan Luxury Belted Modern Cardigan​ ​- $150.00 from: FLEUR'T​ ​
This cozy "cardigan" is all ready to pair over any casual outfit out and about. But it also makes a great indoors robe. In fact, it's especially perfect for work from home folks, or for traveling to the in-law's for the holidays. It was a great little number for traveling because I wore it on the plane, around the hotel, and traipsing around Paris (as you can see above and in the title image!).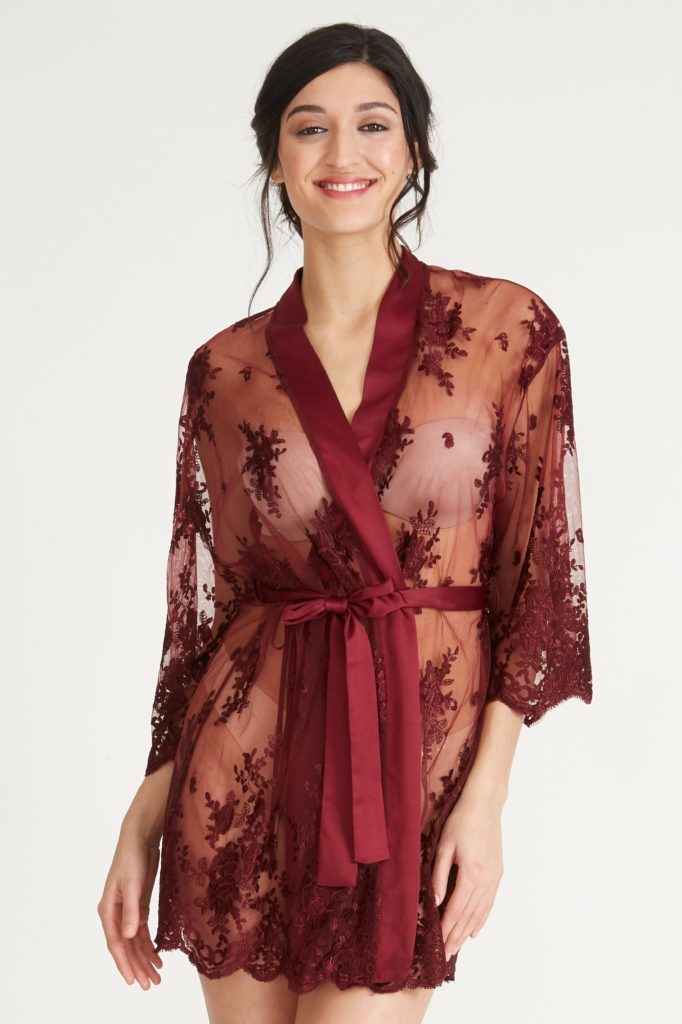 DARLING Cover Up​ – ​$123.00 from: Rya Collection
This "darling" cover up looks great in many colors (like the black I'm wearing in this post) and looks great in several ways. Wear it over absolutely nothing for an indoors excursion. Or, tuck it into a skirt and let the lace peek out the bottom, as my lingerie designer colleague showed me in Paris (see photos above)!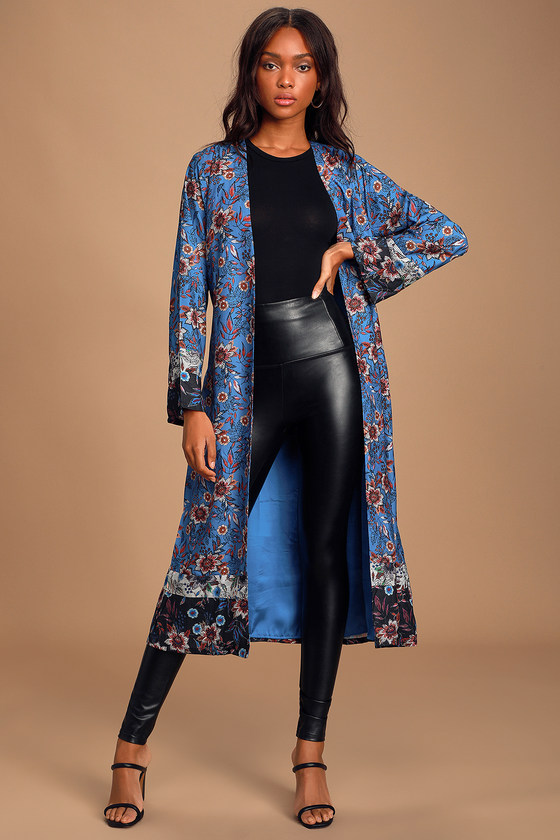 Feeling Tranquil Royal Blue Floral Print Satin Robe – Lulus – $83.00 from: Lulus.com
This laid back, floral print pairs perfectly with an edgy, sleek look with heels out on the town. And it's so lightweight that it makes an amazing dressing gown while doing your hair and makeup around the house!
Laurina Red Scarf Print Satin Robe – Lulus – $64.00 from: Lulus.com
This bright, printed robe can bring sunshine right into the home! Wear it on a Sunday morning while flipping flapjacks, or go out for brunch with your gals and let someone else do the flipping.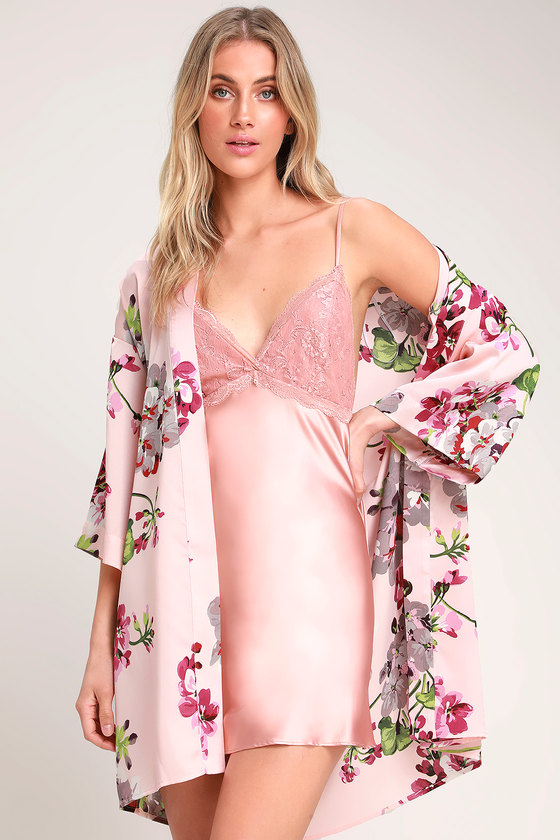 Catch a Star Blush Pink Floral Print Satin Short Robe – Lulus – $54.00 from: Lulus.com
This gorgeous robe is soft and flowy and makes a wonderful coverup over a pretty chemise. Or, take it out and about as a coverup at the beach! Sunglasses and hat are optional and encouraged.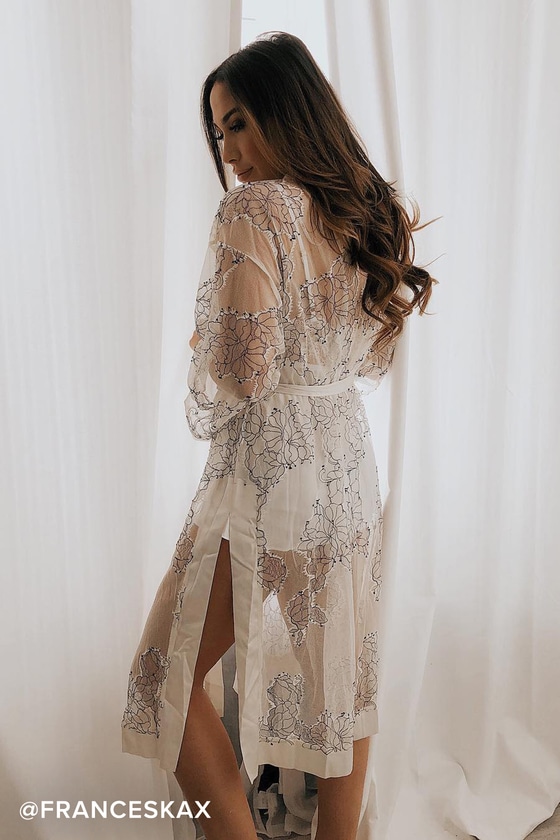 Treat Yourself Ivory and Blue Sheer Lace Robe – Lulus – $72.00 from: Lulus.com
This sheer, floral robe is easy to envision as a nighttime, indoors item. Wear it for a special night on a date with someone else or yourself! Out and about, it fits perfectly over an evening gown (think simple black sheath) or even a black tank and jeans!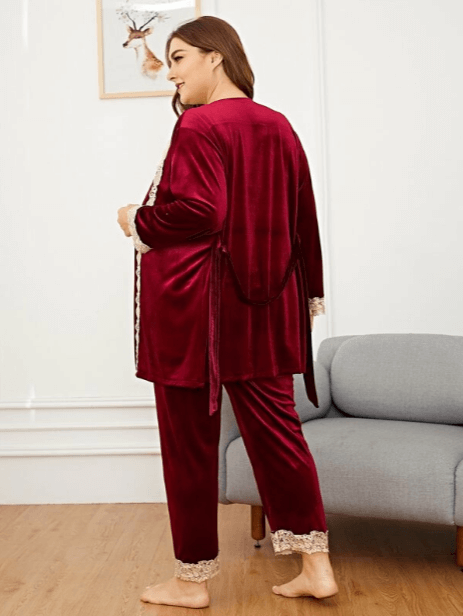 Plus Contrast Lace Velvet Cami PJ Set With Robe – $32.00 from: SHEIN
Wear this sassy set (it comes with the PJ top and bottoms, included!) indoors while cuddling with some cocoa or take the robe out for a holiday spin. Red velvet over a black dress is perfect for a holiday party!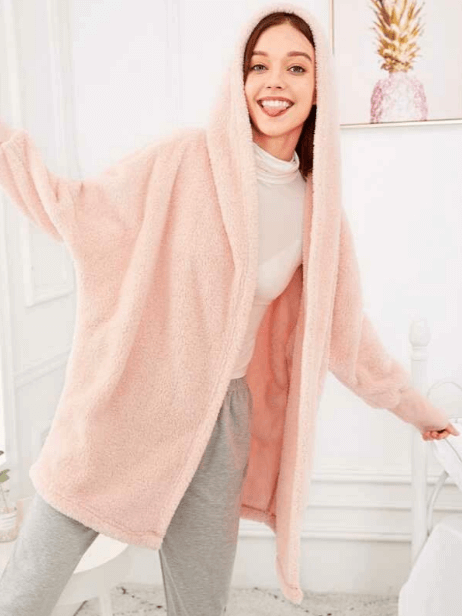 Solid Plush Hooded Robe – $24.00 from: SHEIN
Mmmmkay this hoodie robe has a movie night in written all over it. But it's also too cute to keep inside! Wear it somewhere casual like apple picking or toughen it up with some combat boots and ripped black jeans.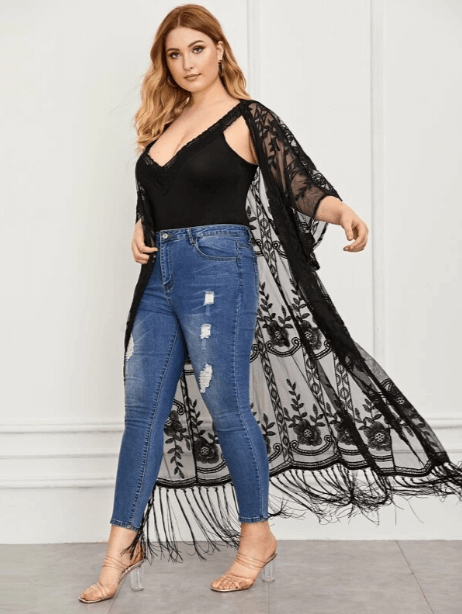 Plus Fringe Hem Embroidery Mesh Kimono – $21.00 from: SHEIN
Ooooh, I love a little drama – even around my own house! Wear this fringe when you feel a flare for the dramatic coming up, and pop on this robe. While it looks gorgeous over jeans and a tank here, I can also see this paired over a jumpsuit with a leather belt and cowgirl boots.
***
Your Turn: Do you like wearing robes? Have you ever worn a robe out & about? What do you like or dislike about them? How can you get creative with a robe and say hurray?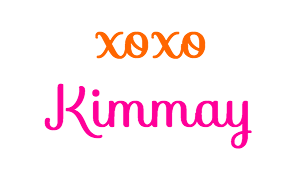 Credits: Photos in this post of yours truly were taken by Nathan Alliard or Laura Boyd. No airbrushing my face or body, ever. Hurray! Images for products were provided by the company website. As mentioned above, some items were gifts, in partnership with a brand, or are affiliate links. I always share what TRULY makes me say hurray!