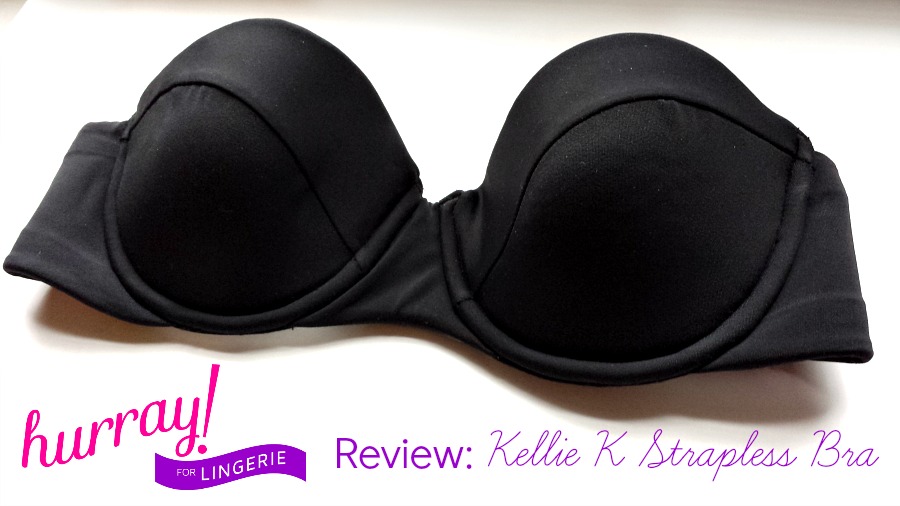 It's time for another Hurray for Lingerie review post! Hurray!
I've been looking forward to this one. In my years as a bra fitter, my friends and clients constantly complain that shopping for a strapless bra is the most difficult bra task. I know. I hear you. With the bevy of bras out there, it can be overwhelming. My biggest advice for finding the best strapless bra: find the size and style that fits your unique shape the best. Whether you do this on your own or with the help of a bra fitter like me, fit is SUPER important to getting to a place of saying Hurray.
After fit, comes science. That's right. Kellie K Apparel has created a brand new, very scientific solution for those slipping and sliding strapless bras. Fueled by his wife's strapless bra complaint, Dr. Anthony Roy used a revolutionary material called GeckTeck™ on the inside of a strapless bra. The material is meant to adhere to the skin, like a gecko, without the slipping or sticking.
GeckTeck™ is a biocompatible, silicone-based material that achieves superior frictional adhesion using the same physical properties geckos use to cling to almost any surface. The material is designed so that it makes intimate contact with even the most sensitive skin without irritation. Such close contact creates an intermolecular attraction known as Van Der Waals forces that, on a micro level, keeps the lining close to the skin while still being comfortable to wear. (www.kelliekapparel.com)
There's a lot of science behind this material that is completely over my head. So here. Watch this video:
Still confused? Ok, me too. So instead of trying to figure out the science behind it, Kellie K. tapped me to try out their strapless bra and write a review. Here it goes!
Fit
As mentioned above, I always feel that the fit of a bra is the most important element in saying Hurray for Lingerie. In fact, even when I worked with luxe brands like La Perla or Aubade, the style was always secondary to fit. I usually wear a 32D or 30DD in a bra without padding. The Kellie K bras are available in sizes 32C-DD, 34B-DD and 36C-D and they have a handy fitting support page on their website. I went with the 32D.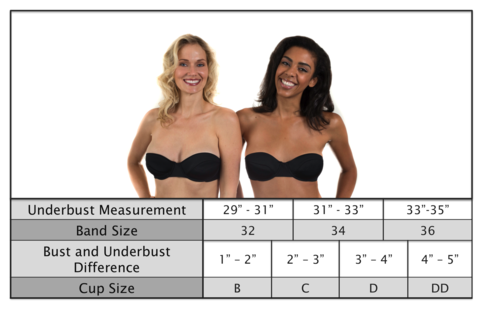 Wearing this bra in a 32D on the tightest hook, it was still a bit loose for optimal security. I measure 29″ around my underbust so I'm on the smaller side of the 32 band using the guide above. Should Kellie K make a 30 band in the future, I'd go with that. If you're in between band sizes, go for the smaller size. The band is firm with moderate stretch and is moderately wide – great for a good strapless fit – but without the snug band it couldn't hug my rib cage quite as it should.
The underwire is surprisingly flexible and firm at the same time. A flexible or softer underwire is a great feature for a woman with less "cushion" around her rib cage (like moi) and totally under-marketed on the Kellie K website (in my opinion). I was actually tempted to cut this bra open and explore it for myself. But I resisted.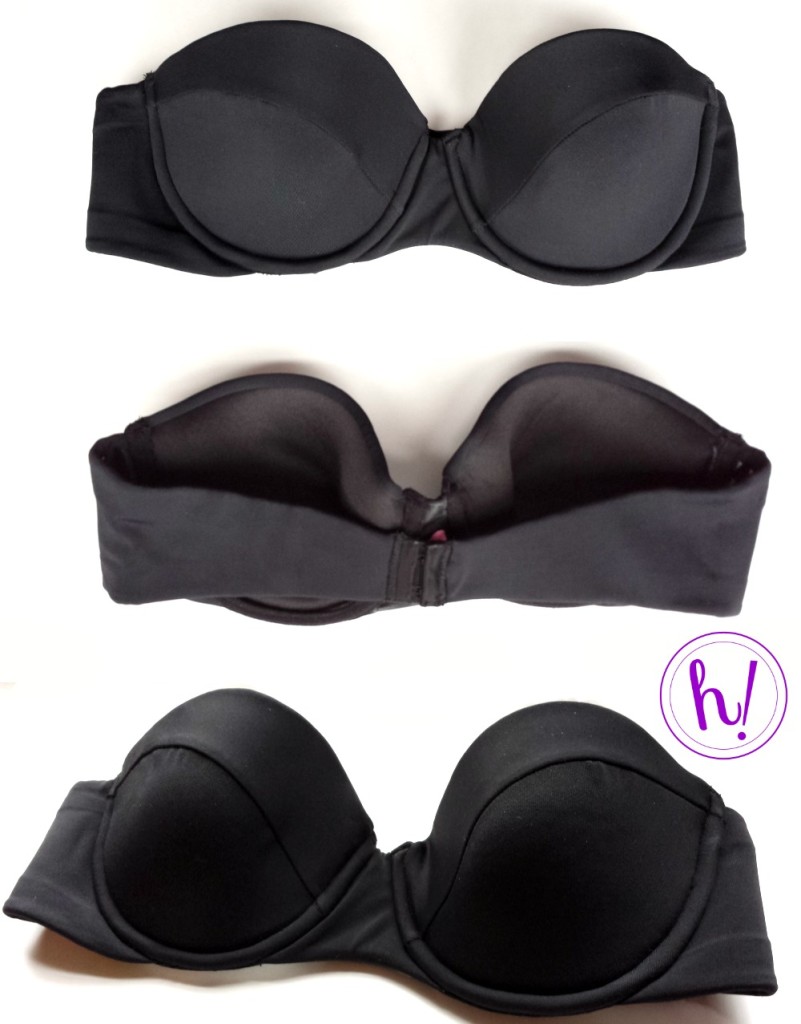 The cups themselves are on the shallow side. They are not full coverage. For someone with breasts that are very full on the top, this may feel different and possibly less secure than other styles. I noticed that the bras on the models seemed very shallow and I'm curious how they feel wearing them. I'm also very curious to see if Kellie K will eventually expand their styles and offer a bra with more coverage or a deeper cup or taller underwire. As a less than full busted woman myself, the fit of the cup was OK. The shape it gave me was rather flattering and surprisingly buxom without any padding or push-up inside the cup. Vavoom!
Function 
I noticed that the bra does not have any straps. I know, I know. You're saying "Duh. It's a strapless bra." But most strapless bras these days have the option of wearing the straps as a halter, criss cross, or even adding other straps. I suppose in this case, Kellie K is making a grand statement: no need for those straps. Ever.
The GeckTeck™ itself is very cool! I spent a lot of time touching, pressing and petting the material on the inside. It's almost as addicting as silly putty! In their video, Kellie K shows the GeckTeck™ material adhering to a forearm and resisting gravity. I had visions of the material using all those fancy scientific terms in the above video to miraculously suction to my body and stay put. I was VERY excited to give it a go.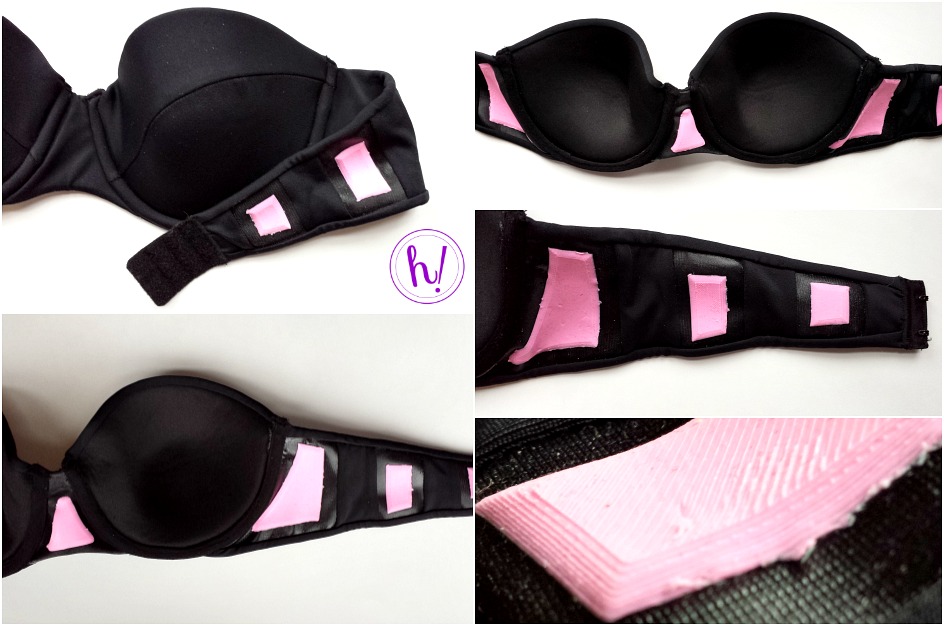 The Kellie K bra aims to stay in place without a super tight band: "No more overly tight bands cutting into your back, ribs and under bust just to keep your strapless bra in place." However, without that snug fit, the GeckTeck™ couldn't really adhere to my skin, so I feel some of the benefit may have been lost. I do feel that with proper fit – not choking you, digging in, or cutting off your circulation, but a firm and secure fitting band – the GeckTeck™ can offer an extra layer of security.
The GeckTeck™ is very soft, not overly sticky, and did not irritate my skin (and this is coming from someone with super sensitive skin). With three pieces on each side of the band and one on the center gore, I imagine there are enough in place to do the job if the band is snug. I wonder what it would feel or fit like if the whole band was covered in GeckTeck™.  I also wonder (and this is the Shark Tank viewer in me) what it would be like if Kellie K collaborated with current bra manufacturers to include GeckTeck™ in their strapless bras. Curious.
Style
The Kellie K bra is currently available in Black and Beige. I was sent the black bra for trial. At first glance the bra is pretty basic, as a good foundational garment should be, but after closer inspection I realized it has a few extras going on. First, the seam going across the apex of the bust is made from the soft material covering the contoured foam cup. Ideally, I like my strapless bras to be completely seamless, but even with the seam, this bra was very wearable under most clothing!
The style has a bit of retro flair to it (something I like very much if you can't tell!). Love. I expected the seam to produce a more retro shape. By that, I mean a more pointed breast shape, a style popular in the 50's and 60's. However, because of the contoured molding underneath, the shape was rounder – a more popular look with the majority of American bra wearers today. GeckTeck™ aside, the bra materials are not overly sophisticated, but it's clear that some thought to style went in to the planning and design of this bra.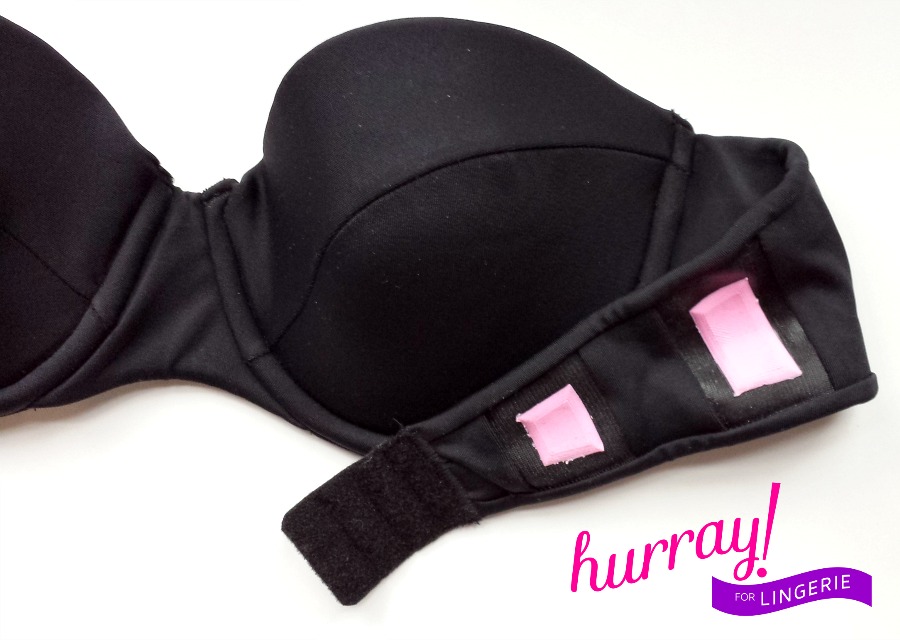 The ultra contrasting hot pink GeckTeck™ on the inside of the bra may throw some wearers for a loop, but I find it's smart marketing. Why not highlight the thing that makes your bra unique? Bonus: back band material is pretty hefty so the pink does not show through.
Value
I haven't a clue how much the GeckTeck™ technology runs nowadays. Or ever. But it's a pretty neat addition to a bra for the price of $75. (Bonus: Hurray Kimmay readers get 10% off with code KIMMAY through the month of December 2014).
Combine the GeckTeck™ with a good fit and you've got a winner. I would not rely on the GeckTeck™ alone to do the job of supporting your bust. Make sure you use the (pretty accurate!) size chart or meet with a bra fitter like myself to get the right size for you. Trust me: $75 is a worthwhile investment when a strapless bra fits well and feels great. A well fitting bra will help you stand tall, lead with your heart, and say HURRAY.
Have you tried the Kellie K strapless bra? Though it wasn't the perfect fit for me, I'd love to hear how it works for you! Use the code above and give it a go. The wonderful team at Kellie K truly believe in what they do, and are sincere in their requests for feedback to improve upon their product and expand their offerings. And with a 30-day money back guarantee, there isn't much to lose. Hurray for lingerie!
Connect with Kellie K on Twitter and Facebook. And tweet at me and let me know what makes you say hurray!