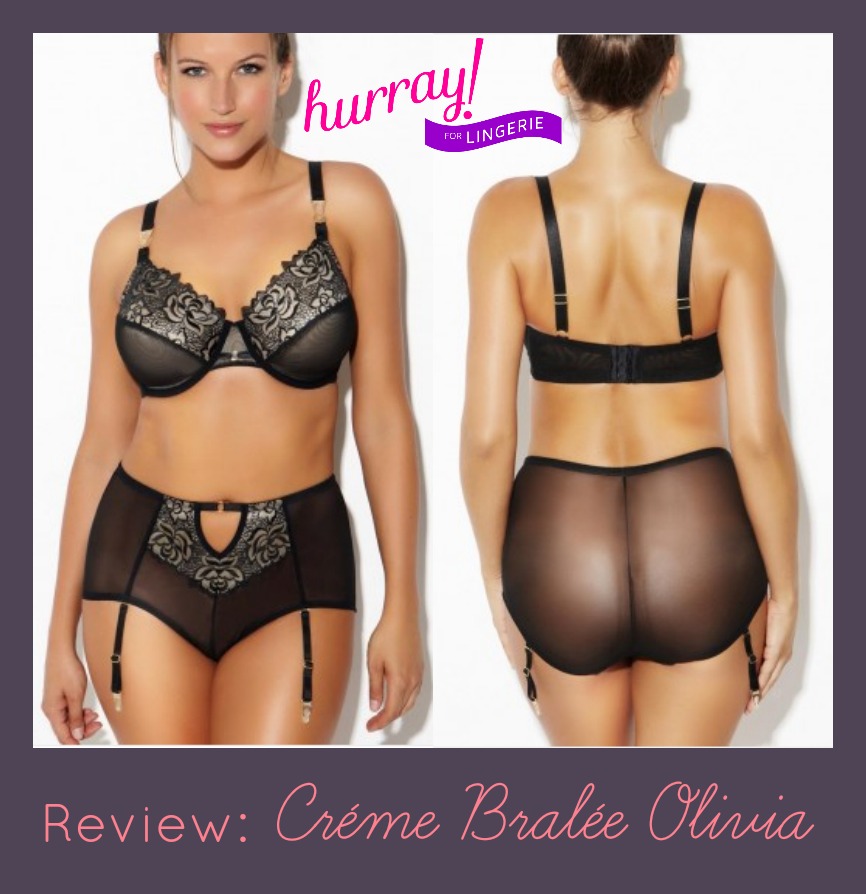 Guess what. My big event, Say Hurray is almost here! It's THIS Sunday, Oct. 26th and I'm sooo thrilled. Prepping for my first big live event has been a lot of work. Because of that, and some new client work (hurray!) I've been neglecting my blog lately. Boo! Hiss! So it's with great pleasure and pride that my first post back after awhile is a Hurray for Lingerie review of a Créme Bralée bra!
When I was working with Linda's, Saks Fifth Avenue and La Perla, I hadn't worked with the Créme Bralée brand. In fact, I was just recently introduced by the model, Asia Monét, at the Curve Lingerie Expo this past August. Asia had shared a photo of her wearing a gorgeous Créme Bralée set and I just had to try it out for myself. Here's Asia looking fabulous in the Olivia Bra…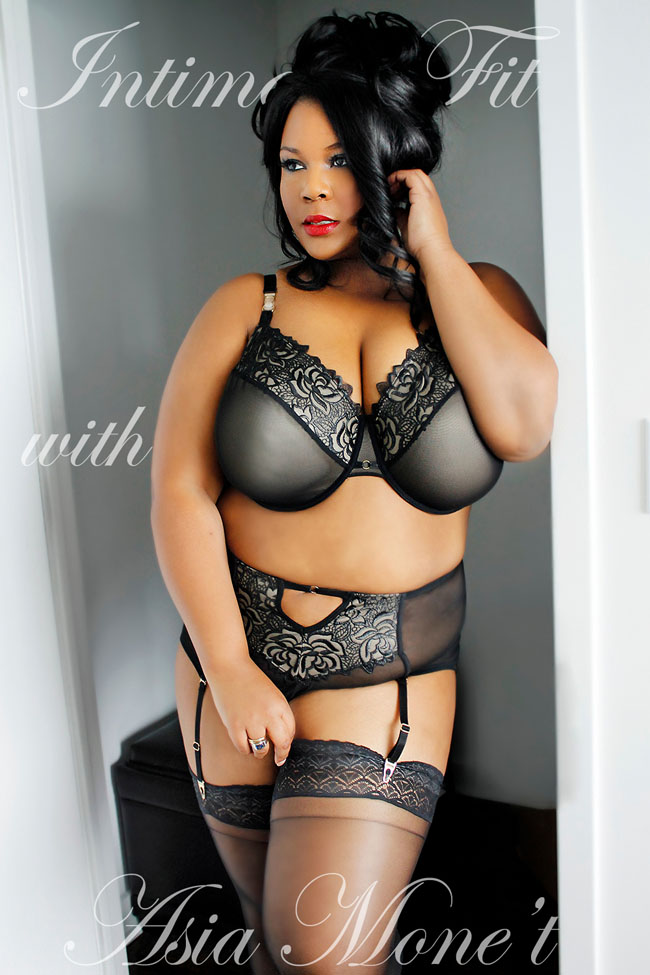 Gorgeous, right?! Créme Bralée is best known for catering to a full bust. As a 32D, I'm not exactly a full bust. (I have Braducational lessons geared completely around what a "D cup" even looks like, and enlightening those who think a D cup means Dolly Parton. It does not. I assure you.) I also often wear a 30DD in some brands that run looser in the band in order to get a snug fit and adequate support.
This Olivia bra was provided for my honest review by the wonderful Créme Bralée team. I really love working with and communicating with the ladies in their office! Because they do not offer a 30 band, I started with the 32D. And though I wear a size 4, the underwear starts at a size 6. Here's how it went!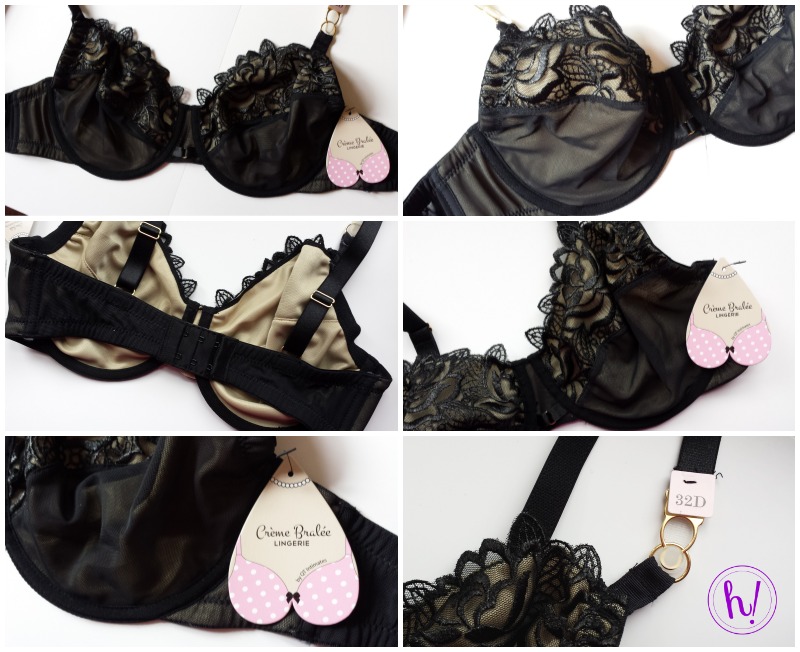 Fit
Bra: I was pleasantly surprised by the snug band. Many 32 bands are either too stretchy or too darn loose to fit me, but this 32 was snug, firm and right-on when I placed it on the loosest hook to start. The cup, however, was very full on top, which does not match my bust shape. I hasten to call it a "big" fit, and would rather describe it as "full on top". This is an unclear distinction, I admit, but one that as a fitter I use often when comparing the intricate differences between bra cups. Either way, I simply did not have the right shape to fully fill out this cup. Because of that, the underwire had no resistance, or nothing pushing it out and away so it was digging into me. I'd consider this underwire to be a very firm, sturdy underwire compared to other brands. For someone with a very full bust and a larger band size, that's a huge plus. For someone with a smaller band (and potentially less body fat – trust me, this really is a factor for many women) and a smaller bust, the underwire may be too firm.
Size Range: 32-40 C-G, 42-46 C-DD
Underwear: I'll say it right now – I LOVE THESE UNDERWEAR. The rise is not too low, the the details are amazing (see Style) and the material is great. However, the size 6 was just too big and baggy for me. On someone with fuller hips and a bigger bum, these would be dynamite! Oh please, oh please, oh please, Créme Bralée, consider making these in a smaller size!
Size range: 6-14
Function
Bra: One very unique feature of the Olivia bra is the use of suspender clips to attach the strap to the bra cup. There's a risk here that some shoppers may mistake this for a nursing bra, and the potential plus that it could actually function as a nursing bra (minus the sling to keep the strap from flying backward once it's unclipped). However, I'm reminded of a few online clients (yes, more than one) who specifically requested a bra that allowed them to unhook the strap, pull down the cup, and give a little sneaky peeky to their honey. Different than a traditional peek-a-boo bra in which the nipple area of the bra is slit or completely removed, these customers wanted something that could still support a full bust, function as a regular bra, and provide coverage when it wasn't being used for its more seductive purpose. Boy, do I wish I had the Olivia bra to offer them then.
In addition, this bra functions really well with a sturdy band, two rows of hooks, great adjustable (and not too stretchy) straps and a firm underwire. The embroidery detail may be too bumpy for some snug outfits, but it's by no means unwearable under most clothing. The neutral colored lining is a wonderful option for those who want the sheer factor of the black mesh without actually giving anything away. . . until they unclip the strap 😉
Underwear: I've already bragged about the cut of this bottom, but the removable garter straps are an even bigger bonus. Wear them with the straps and add in thigh high stockings, or wear them without and go bare legged. The higher waist may be too high for low cut bottoms, but the coverage is great for dresses, skirts and higher cut pants. FYI there's a cotton crotch gusset.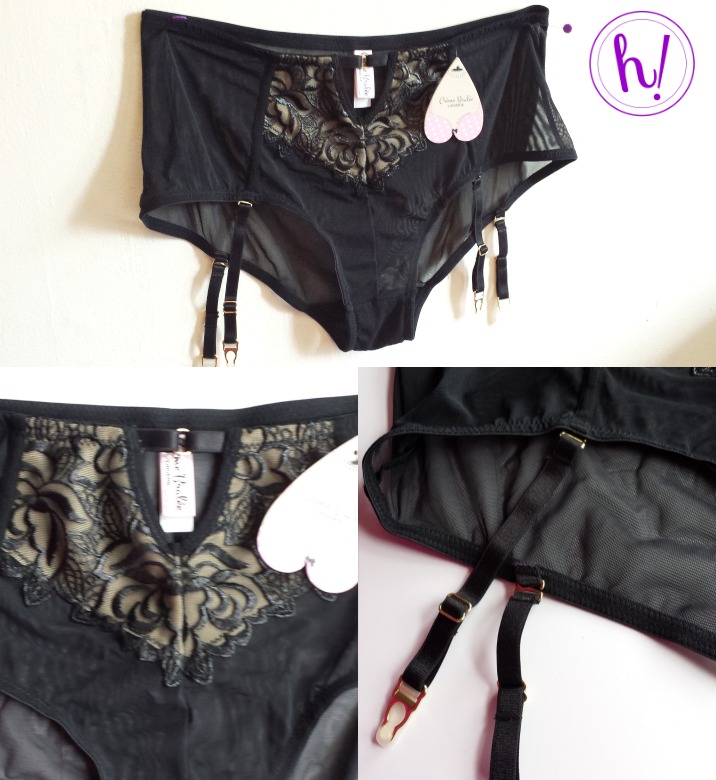 Style
Bra: I truly feel that black lingerie never goes out of style. Check out my recent article on Lingerie Briefs about why I Say Hurray for Black Lingerie (including both practical and seductive reasons). Adding a black embroidered bra like this to your wardrobe is a no brainer. I really love the classic floral and leaf embroidery, gold hardware and ribbon detail on the center gore, and neutral lining for a very contrasting look. Personally, while I like the idea of the suspender clips on the bra strap, I'm not in love with the aesthetic. And the fuller coverage cup (admittedly, mostly because it doesn't fit my bust shape) is a bit more mature than my taste. Despite that, I think this bra is pretty timeless and is a great option for women of many ages and tastes.
Underwear: Sheer mesh back. LOVE. Higher (almost retro) waist and fuller coverage. LOVE. Embroidery detail. LOVE. Adorable front cut-out, gold hardware, and strap that almost looks like a belt. LOVE. Contrast of neutral lining under the black embroidery. LOVE. Removable garter straps. LOVE. Did I mention that I love the Olivia bottom?
Value
Bra: At only $41.50 retail, this bra is a steal. The solid construction and sturdy elastic are completely worth the price. This bra is made in China of mostly polyester, nylon and spandex. Where it lacks in sophisticated materials, it makes up in solid construction and timeless style.
Underwear: At only $27.50 (or $28 for some sizes) retail, I think we all know I'm going to say that this lovable pair of undies it well worth it. LOVE.
So that's it! In conclusion, I say Hurray for the Créme Bralée Olivia bra and panty set. And while it may not fit me personally, I absolutely encourage those of you with a fuller figure to give it a go.
Have you tried Créme Bralée lingerie? What do you think of the Olivia set? What's your favorite brand for a fuller bust? Tweet at me @hurraykimmy or leave a comment below!