HAPPY MONDAY!
As a devoted Today Show watcher (I mean, it's on for four hours, how can I miss it?), I'm really excited for their body image emphasis this morning. The anchors went makeup free (men and women) for a portion of the show this morning. While that takes some guts, it was more impressive to hear their hangups and the ways that they accepted their "flaws" as a part of who they are. In the past, Today Show contributor Bobbie Thomas shone when she revealed herself sitting in a pair of Spanx and a bra (at 1:04) in her The Power of Style preview…
Bobbie's point was that no one'e body is perfect, and dressing with clothes that suit YOU will help you feel your very best. Here's some great advice from Minnie Driver during her appearance on The Today Show. Matt Lauer asked for her to share her thoughts for people who may be tempted to compare themselves to rail thin models in the media: "You have to get comfortable with who you are. . . the only thing you ever have to do is answer to yourself".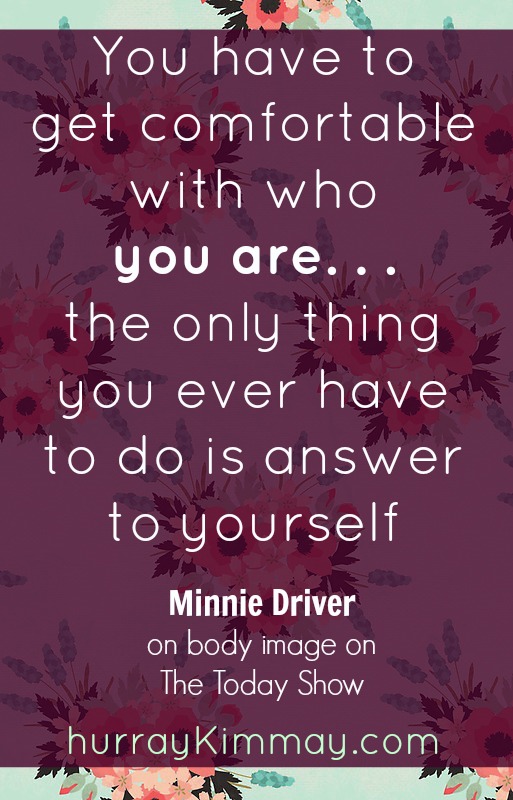 Here's a truth: I didn't wear shorts for almost 7 years. That's right. Besides gym shorts and my volleyball uniform, I shied away from shorts. I hated my thighs during middle school and high school. With stretch marks from a growth spurt at age 10, pale skin, and cellulite, I kept my legs hidden under loose skirts or long pants. Also, as a 5′ 7″ high schooler, I felt like a giant compared to my pretty, petite friends. At one point I weighed only 115 lbs but I felt big, fat, and ugly. Looking back on photos of me at the time, I was a skinny stick with a seemingly vibrant and vivacious attitude… and a pretty ugly self image. Now, with 10+ years and 20+ pounds, I feel so much more confident in who I am and what I'm about. So what changed? My body didn't… but I did.
I realized that every woman has body hang ups, even those that looked beautiful in my eyes. And I realized that many people thought I was beautiful – and meant it – and couldn't believe that I had hang ups. They loved my long legs and wanted my thin frame. It also helped that I started working as a bra fitter and saw naked women all day long. Partially because it helped me realize that the human body is amazing, and each one is unique… and because I saw what age did to it. As a 19, almost 20 year old at the time, I was taking my youthful, healthy body for granted. So I ditched the long pants and started sporting (tasteful) shorts  and owned my flaws. This is how I learned that confidence is the best key to looking your best.
To prove my point, here is the gorgeous curvy model Asia Monet and I at the Curve Lingerie Expo. Two very different shapes, sizes, and even skin tones… and two very confident, pretty ladies (if I don't say so myself!)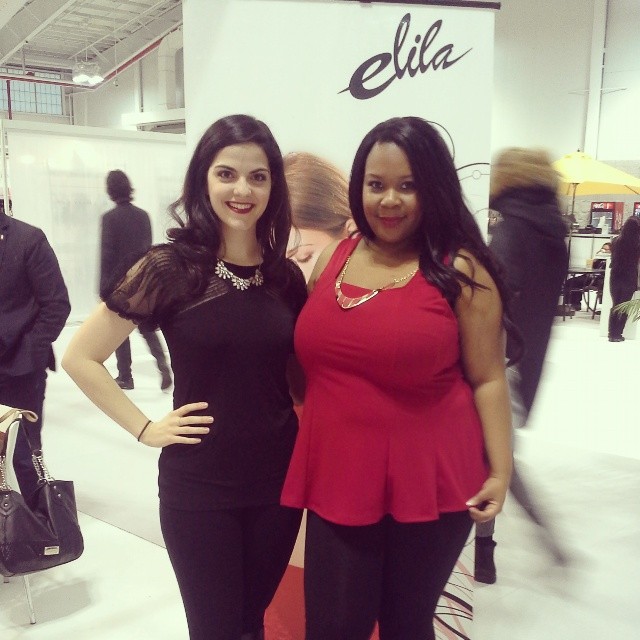 I've been a champion for women's body image for years now. In fact, I started Tuesday Boobsday and Thursday Curvesday on the Linda the Bra Lady Facebook and Pinterest pages to help foster a community of love, joy and self respect when it comes to body image. Here are a few of the sassy Pins on the Linda's Thursday Curvesday Pinterest board. Hop over there any time you need a body image pick-me-up!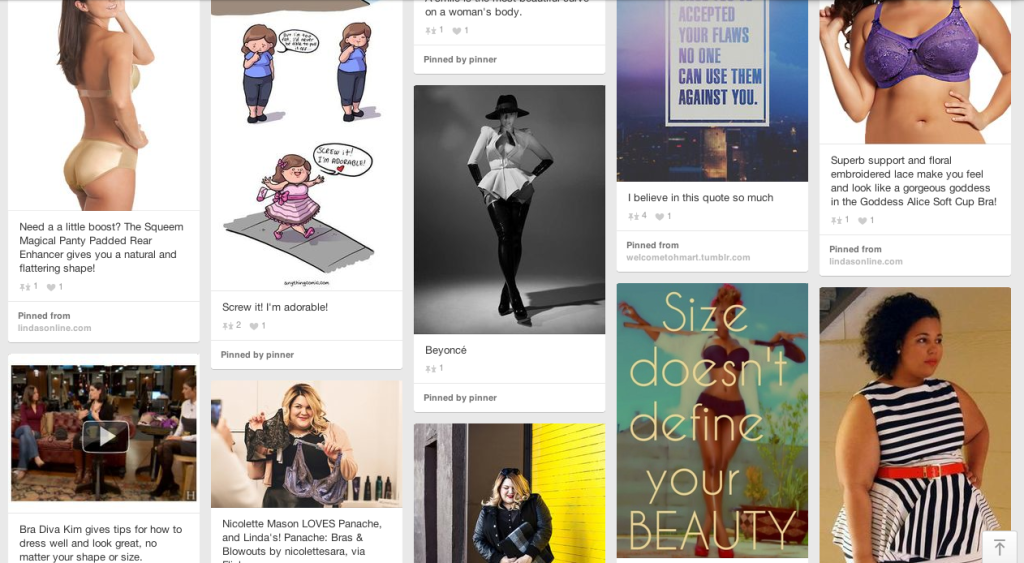 Here is an exert from a blog post that I wrote for the curvy blog HourGlassy.com on being a 32D bra size, and how I feel about my body. You can also read the entire blog post here.
And most recently, I shared my views on the Sports Illustrated Swimsuit edition, and the skimpy bathing suits on the models. To read the entire post, visit the Linda's Blog post:

As a bra fitter and swimsuit stylist for over 9 years now, I've garnered experience with cup sized swimwear at Linda's, expensive suits at high end retailers on 5th Avenue, and on Madison Ave with some of the sexiest lingerie and swimwear brands in the business. I get it: sex sells. But what is sexy? For the ladies in the Sports Illustrated magazine it looks like less is more: skimpy, zero coverage styles with little left to the imagination. In the fantasy world of magazines and fashion shoots, that may work. But in real life, the women that I help shop for bras and swimsuits and I agree: a great fit always helps you look and feel your very best. I always tell women that wearing a bathing suit is the closest that most of us will come to wearing lingerie in public. It can be scary or intimidating. There's a lot of skin showing and lots of flaws to consider. None of us are flawless (especially without Photoshop), but we are all beautiful.
So what I've learned, really, is to love what you've got and stop trying to be someone or something else. You are you, and that's pretty great. Curvy, skinny, tall, thick, thin … it doesn't matter. Our bodies are amazing works of art and science, and we're blessed to have them. Say a little prayer of thanks for YOUR body today, be kind to it, feed and nourish it well, dress it up in lovely things, and give it some love 😀
How do you celebrate your body? Send me a tweet or write a comment below!