Oh hey! Did you realize that Christmas is only 10 days away. WHOA. Never fear! If you have a few yards of fabric, a sewing machine, and a few stylish friends on your Christmas list, you're in luck. Today's post is a video tutorial and interview with Trina Shumsonk of That's Sew Trina. Trina is a creative whiz who whips up quilts, accessories, and even her own clothes. But if you're a beginner with the sewing machine, she has a very easy DIY scarf project for you. This whole project takes well under an hour (I'm estimating up for those who are really just beginning and may need more time to pin, seam rip, or thread their machine) and only uses about 1/2 yard of fabric. That means you can use left overs from another project or score a piece from the 99cent bin and make a scarf or two in one afternoon. These scarves make the perfect last minute holiday gift!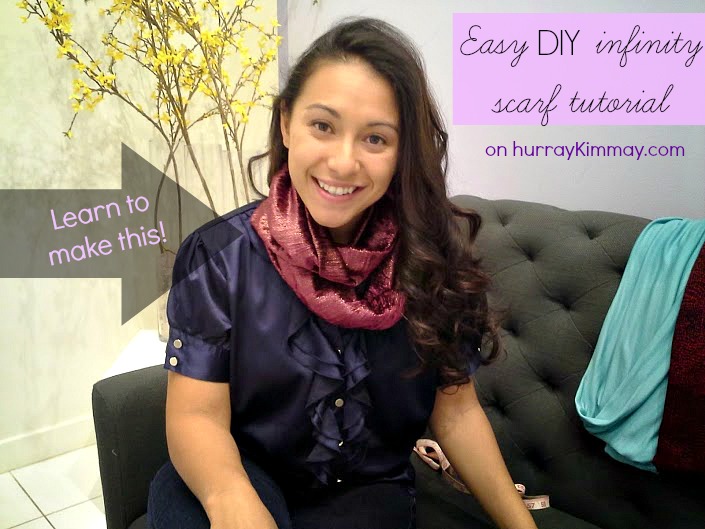 Watch my interview and Trina's tutorial below and keep reading because I'll show you how to style a few of Trina's finished scarves!
PS: Did you notice my homage to the late 5 Pointz graffiti art exhibit space that was once covered in art, but was sold and now completely white washed? That building was a Long Island City, NY landmark and I will miss seeing it on my travels on the 7 train!
And now for some style tips! These are just a few ideas to get your creative style juices flowing. Let me know how you wear your scarf! (PS: Thanks again to Britney for taking most of these photos!)
Right after we made this pretty burgundy crushed velvet scarf together, I asked Trina to take a photo of me wearing it with my violet military style winter coat, black jeans, tall black leather boots, and black cat eye glasses. I also added a sparkly gold hair clip around the fabric for a touch of excitement. It looked so pretty with the gold flecks in the fabric – and the clip is so special to me because I wore it on my wedding day! You can do the same with something sentimental. I'm also sporting a handmade bag with my Hurray Kimmay logo that Trina made for me – thanks Trina!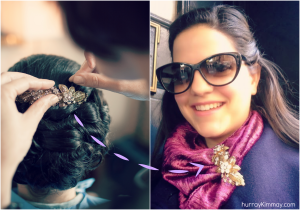 Here, I paired this polyester chiffon blue floral scarf with a fall look. The flowers in the sea of bright blue were tiny spots of yellow, orange, red and ivory. I used a bright red coral sweater and a matching bead necklace, along with warmer elements like the vintage tan corduroy jacket, warm fuzzy ivory knit hat, brown booties, tortoise glasses, and grey woolen mittens. Dark jeans keep this look casual and ground the outfit with a dark base. And the pop of blue tank top peeking out from the bottom of my sweater is a nod to the bright blue scarf.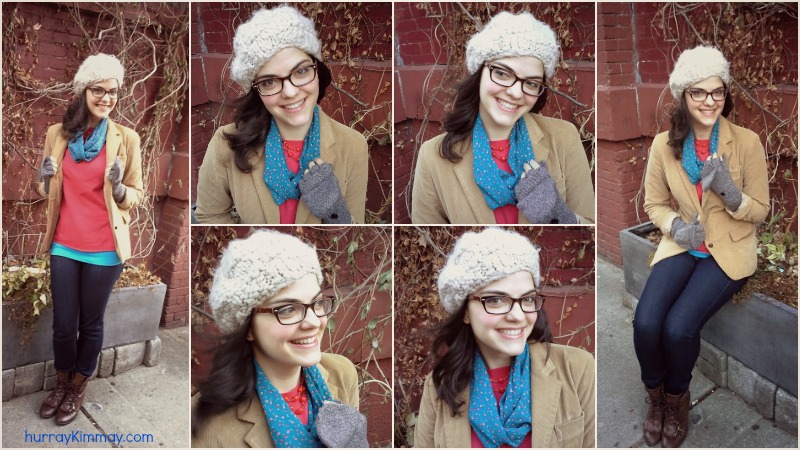 This next look is very cool! The scarf has a bold black and white pattern on a light sky blue base. The material is slinky and very sophisticated, so I paired it with a very structured Just Cavali blazer with sassy shoulder pads, black tight pants with a faux leather panel down each leg, tall black leather boots, and teal Italian leather gloves. This serious look got a bit more whimsical when I added in my kitten ears black felt hat from H&M and a gray knit bow necklace from Anthropologie – plus, a side pony keep things cute!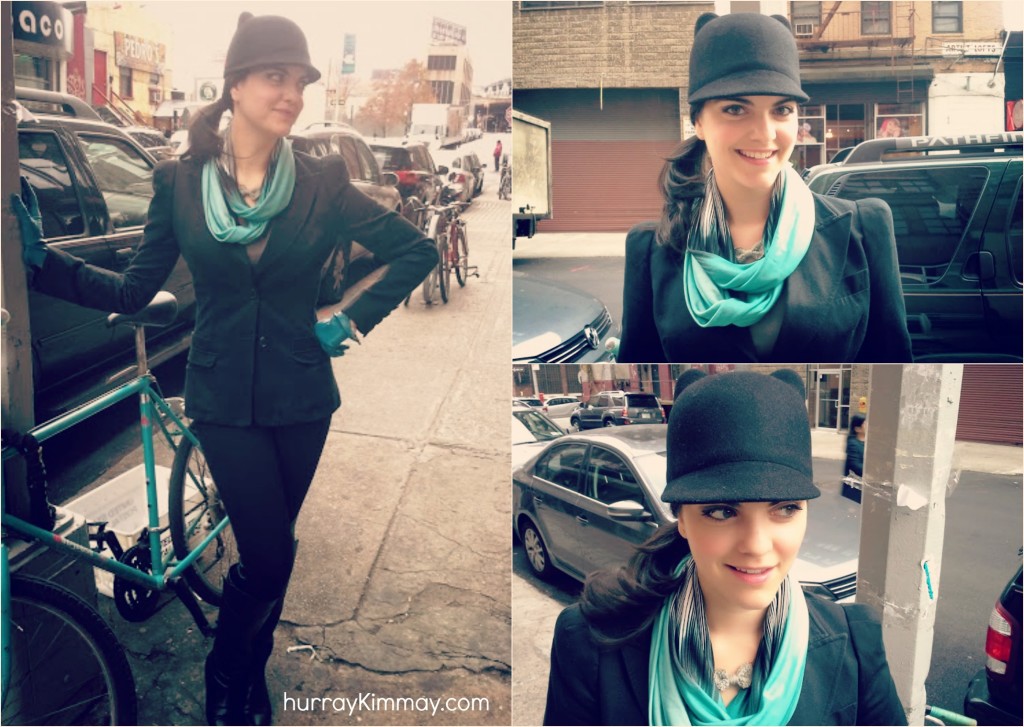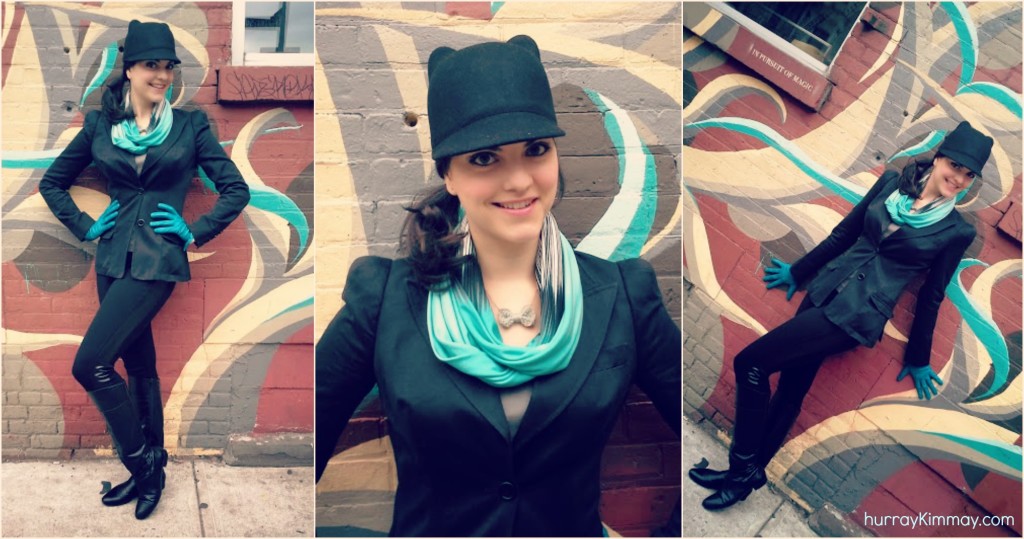 For an edgy but causal look, I paired this fun red and black snake print polyester chiffon scarf with a faux leather jacket, dark jeans, a black knit beanie, and a bright red cross body bag. I also added a vintage sparkly brooch for a touch of femininity, and my cat eye glasses for a vintagey look. Underneath, I wore a vintage looking Mickey Mouse raglan baseball style shirt for an extra dose of "hurray"!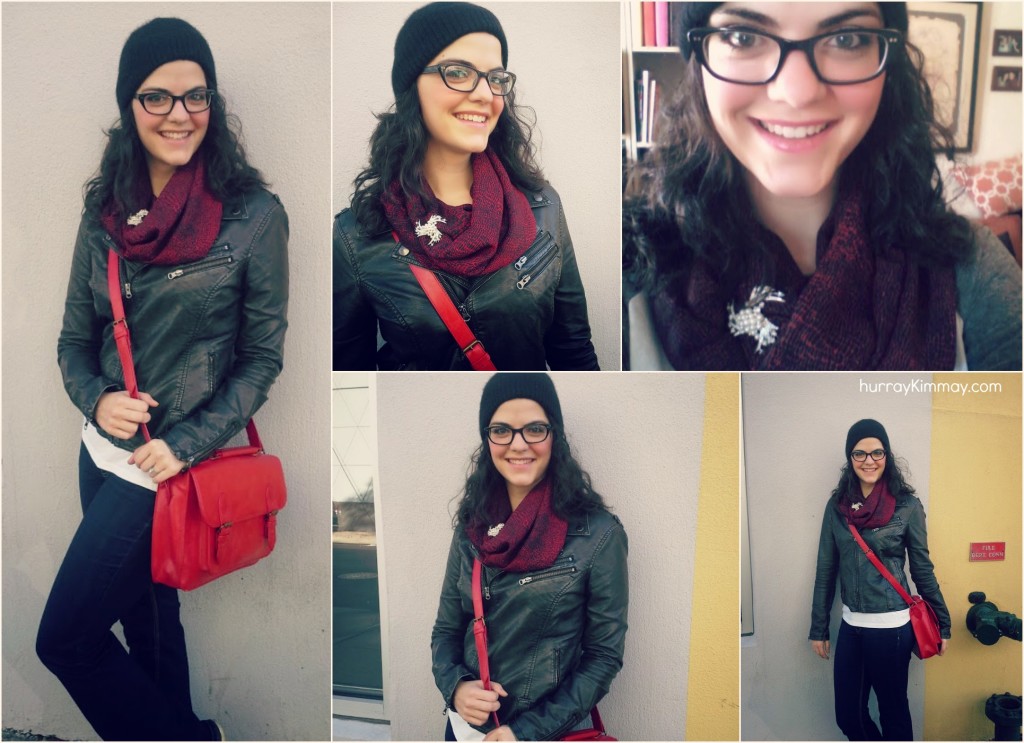 READER BONUS! Like some of the scarves that you see here? Want a custom quilt from Trina? Hurray Kimmay readers get 10% off any item over $10 with coupon code HURRAY until February 28th, 2014 in the That's Sew Trina Etsy shop. Hurray for you!
Do you have any favorite easy sewing projects to make? Did you try this project? If so, tell me how it went and send me a picture of your beautiful scarf on Twitter @hurrayKimmay!