Hello again, Monday. It's time for some motivation. Good thing you're on Hurray Kimmay.
This week's theme: smile! I remember (years ago) being 19, living in New York City, and hanging out with some pretty schmoozey people. I was dating someone far too old for me, and going to clubs a lot. One night, while I was out, an older guy that moved in one of those circles, motioned me over close to him, and with hot breath and a crooked grin, said to me: "You've got a great smile, you know that? You should use that." He said it in a way that meant I should use my smile to my advantage, to get what I wanted, or to con or manipulate people. I didn't like that. As persuasive as my smile may be, I didn't like the notion of using something so precious and innocent as a smile in a sleazy way. I've never forgotten what he said. Almost a decade later, I can tell you that I am doing just what he suggested… but in a good way. I use my smile all the time to get what I want. But usually, my intentions are far less sleazy. What do I want? I want to make other people happy. I want to ease tension. I want to enjoy life. I want to experience joy. And if a smile can make that happen, then so be it!
A smile can change your whole interaction with someone. It can even change their day. And hey, it can change yours. Putting on a smile, even when you don't feel like smiling, can trick your brain into thinking you are happy.
I also clearly remember a t-shirt that a classmate wore in first grade. She was adopted from Korea, but grew up in the United State. Her shirt celebrated diversity, and featured children from many countries which all spoke different languages and said "we all smile in the same language". Smiles can unite us. They are a universal way of expressing "good".
Share a smile with someone today, or give someone a reason to smile today!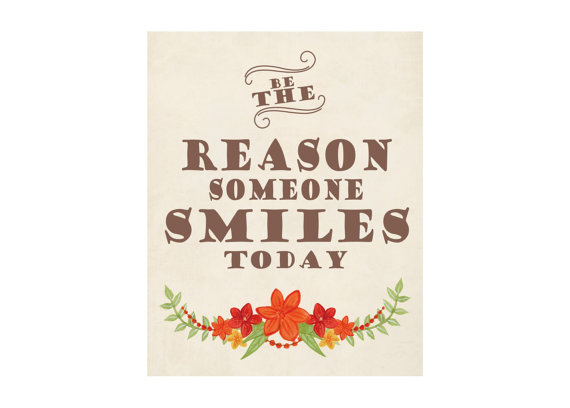 Be the reason someone smiles today ::source::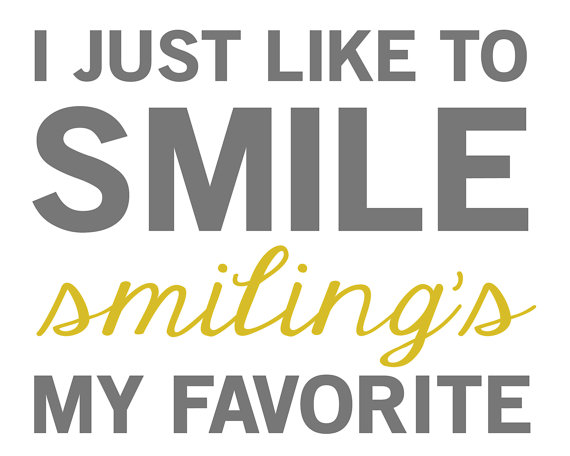 I just like to smile. Smiling's my favorite. -Elf ::source::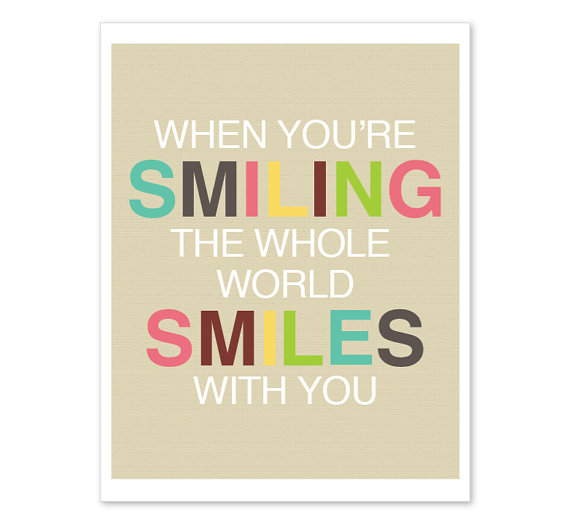 When you're smiling the whole world smiles with you ::source:: <<Love the Frank Sinatra version of this song, by the way.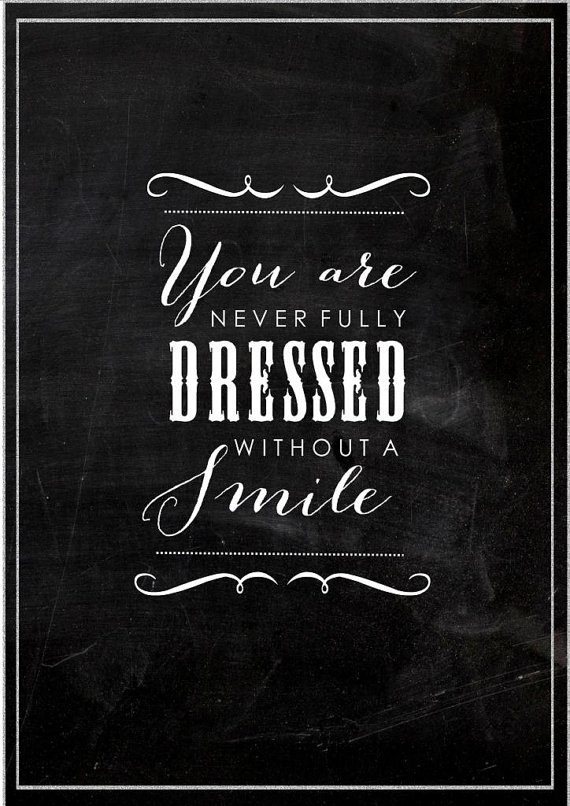 You are never fully dressed without a smile ::source::
One of my favorite songs. Ever. "Smile" performed by Nat King Cole.
http://www.youtube.com/watch?v=NLxknJKZV28
Smile though your heart is aching
Smile even though it's breaking
When there are clouds in the sky, you'll get by
If you smile through your fear and sorrow
Smile and maybe tomorrow
You'll see the sun come shining through for you
Light up your face with gladness
Hide every trace of sadness
Although a tear may be ever so near
That's the time you must keep on trying
Smile, what's the use of crying?
You'll find that life is still worthwhile
If you just smile
That's the time you must keep on trying
Smile, what's the use of crying?
You'll find that life is still worthwhile
If you just smile
I hope you take these words to heart. Smiling may seem like a simple thing, but one smile has the potential for great good. What makes you smile? Has a smile changed your day before? Share with me in the comments!