Hola, Lunes. Hello, Monday.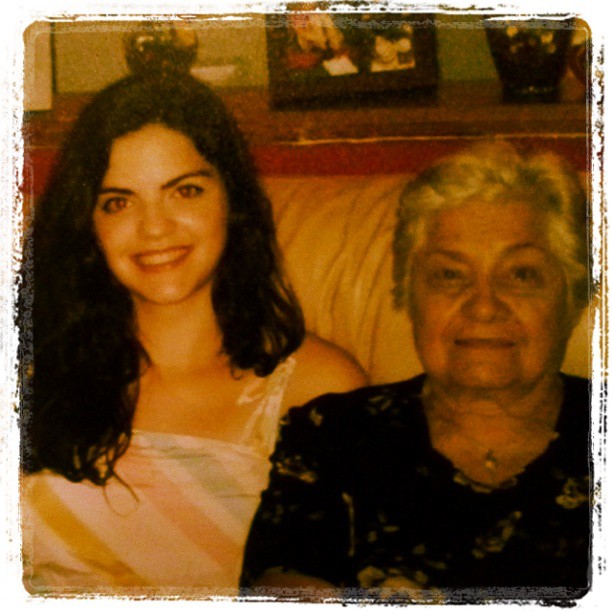 The past few weeks have been tough. My sweet Grandma on my Father's side was laid to rest just a few days ago. In the years leading up to her death, her health and mind had started to deteriorate. In the weeks before her death, she had fallen and her brain activity had been all but lost. My family was simply waiting for the rest of her body to catch up, and for her inevitable passing to come to fruition. It's a strange thing to wait for someone you love to die. It gave me much anxiety, and I felt much sadness. But a strange thing happened: my family rejoiced. Through the sadness and the tears, we gathered around each other, traveled from afar, and reunited in Florida to finally lay her to rest next to the love of her life, my Grandpa. Officially, we congregated for her funeral, her burial, a lunch, and her legacy (or memorial) service. But we also gathered as a family for some cousin time out at a sports bar, breakfasts with my immediate family, car rides with my brothers, girl time with my nieces, brunch at my Dad's house (which was my Grandma's home many years ago), a day at the beach, and a plane ride with my cousin. We took photos with all 17 Great Grandchildren and all 17 Grandchildren, we shared stories, we sang songs, we remembered our graceful leader. I will cherish this wonderful time together with my family.
Truthfully, I was very anxious about the services. I'm fortunate enough to have not had to attend a funeral before – only a memorial service for Grandma's love, my Grandpa. And that was many years ago. And since my husband couldn't come with me, I was quite frankly sad and terrified. But what a joy it was to realize that our family was at peace with everything. There were tears, and we will miss her, but her legacy lives on. Those few days together with my family was a true blessing. And it was all possible because of Grandma.
We rejoiced because as a devoted Christian, we knew exactly where she was going. And though she is gone from this world, she lives on. The theme of our time together, over and over, was Grandma's lasting legacy. She left a hearty imprint on all of us, and her obituary sums it up well:
Rafaela Carrion Arce
"Raffy"

December 7, 1926 – August 13, 2013

Rafaela Arce, age 86, was born in Arecibo, PR, but spent the majority of her life in New York; enjoying her latter years in Florida.

Raffy is one of seven sisters; Louisa, Elba, Asira, Carmen, Lucy and Vina. Raffy lived in Puerto Rico until age sixteen, at which time her sister, Louisa, sent funds to bring her to the States. While in New York, Raffy worked hard with desires to make enough money to send for her parents; a successful endeavor.

After moving to New York, she met her beloved, Efrain. While she was sitting in the choir, he entered the back of the church. In the words of Raffy, "When our eyes met for the first time,
it was like electricity across the room!"

On January 18, 1947, they married. Raffy was twenty years old. Together, Efrain and Raffy left behind a wonderful legacy.
They were blessed with six children;
Ruth, Hector, Sarah, Eliezer, Rebecca and Deborah.

Efrain and Raffy are survived by seventeen grandchildren;
Caren, Efrain, Bruce, Elizabeth, Joshua, Nikki, Jonathan,
Philip, Aaron, Kimberly, Jessica, Stephanie, Oscar, Christina, Amanda, David and Timothy.

The generational blessing includes seventeen great grandchildren; Cassandra, Samantha, Sabri, Derek, Taylor, Sarah, Aslan, Jacob, Ethan, Timmy, Jade, Eden, Brooke, Adam, Jace, Blake and Silas…the eighteenth is on the way.

Raffy was a devoted wife and mother.
She and Efrain were married forty-eight years, before he was ushered into the presence of the Lord in April of 1995.
Raffy spent the last eighteen years of her life in anticipation of a great reunion in Glory with the love of her life and with her Jesus.

Efrain and Raffy loved the church and always had hearts to serve;
a significant mark of their lives. Raffy was a spiritual mother to many. Her ministries included singing, intercessory prayer,
leading Bible studies, hospitality and mentoring. She even served as president of Women's Aglow. The prayer group she started at Christian Life Center is still active today.

Although Raffy will be missed in our everyday lives,
we rejoice and celebrate her great reward.
She is in the presence of the King of Kings.
This is not "good-bye," it's "see you soon."
At the end of her memorial service, we were surprised by a video taken of Grandma years ago before her dementia set in. The video captures Grandma the way that we remember her: feisty, joyous, talkative, and faithful.
Arce, my maiden name, and my Grandmother's married name means "Maple" in Spanish. Our family tree is a strong maple tree with deep roots in kindness, faithfulness, and generosity. I am so proud of Grandma's personal legacy, and our family legacy.
This slideshow reveals snapshots of her life, and the children, grandchildren and great grandchildren that will carry on her legacy:
One reason the past few days was so joyous was because we got to spend time together as a family. Another reason was because my Grandma led such a full and beautiful life. Her legacy is so rich. And it made me think, what will my legacy be?
Here are a few words of motivation that I hope will help you think about your own legacy. It's not too late to start living the life that you will want to be remembered for.
Deaths put a lot of things into perspective. But I say "Hurray!". Hurray for my wonderful "Abuela" and her beautiful legacy. And hurray for a chance to make my own. What will your legacy be?