One of the coolest things about working in Dumbo, Brooklyn are the food trucks. They are everywhere! I've lived in New York City for just about 10 years, and the term "street meat" has a certain nostalgic ring to it. I remember late nights (well, early mornings) and grubby gryo stands on street corners very fondly. But the food cart has come a long way in 10 years, and now there are food trucks. They are wildly (almost obnoxiously) popular, but for good reason. The food is pretty awesome! Plus, I found a nomadic fashion truck. For reals! And finally, get a peek at some of my recent, fresh summer outfits. So, whether you get your food from a truck, or you just love fashion, you're going to love this post!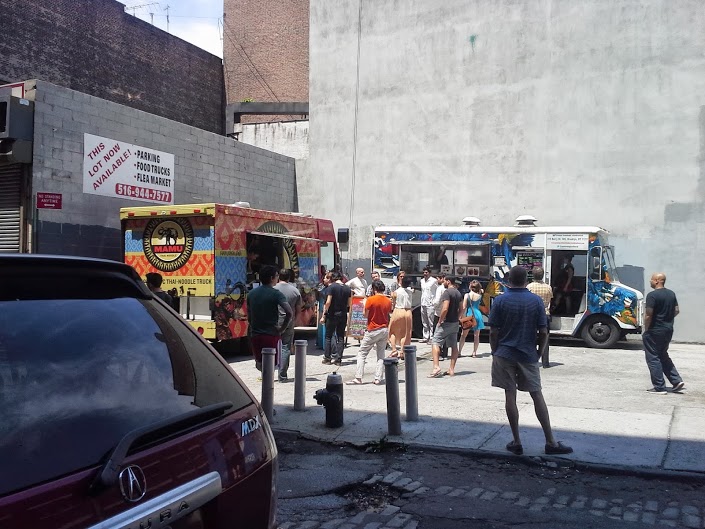 Near Water and Jay Streets? Follow @dumbolot to find out which trucks will be in the lot that day!
My co-worker and friend, Britney, and I often roll out of the office into the hot Brooklyn air and peruse the food truck menus. Luckily, since the "kitchen" is so small, there's only so much on the menu, which keeps browsing time to a minimum. Once we pick a truck, we wait on the food… and take some photos. Why not? Here are a few photos of me in front of a few of the food trucks in Dumbo.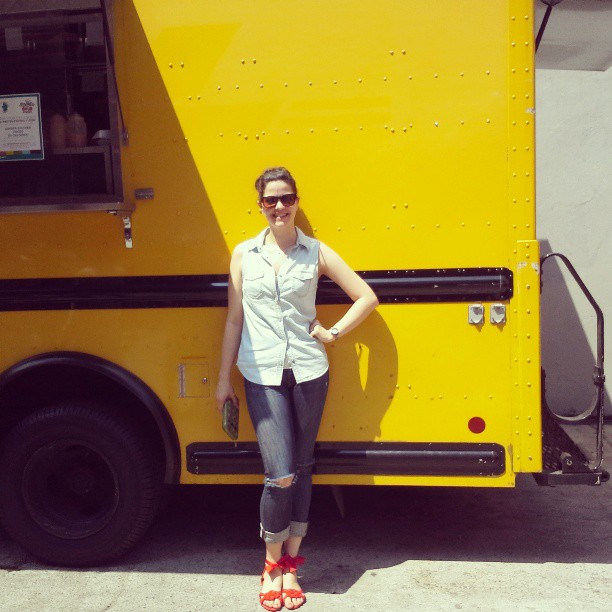 Food truck: Big D's Grub Chambray shirt and red suede sandals: H&M Jeans: Levi's Wallet: Pylones Watch: Fossil Sunglasses: Michael Kors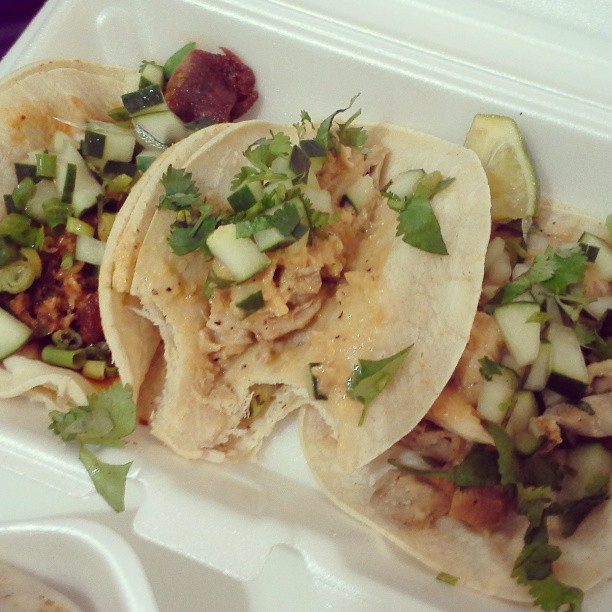 Big D's Grub was pretty awesome. I got two ginger chicken and one spicy pork taco. Plus, some pork and chive dumplings for later. YUM! They accidentally squirted sauce out of the windows and on to my arm at this truck LOL Luckily we laughed it off (and it didn't get on my shirt!) and I stocked up on the napkins.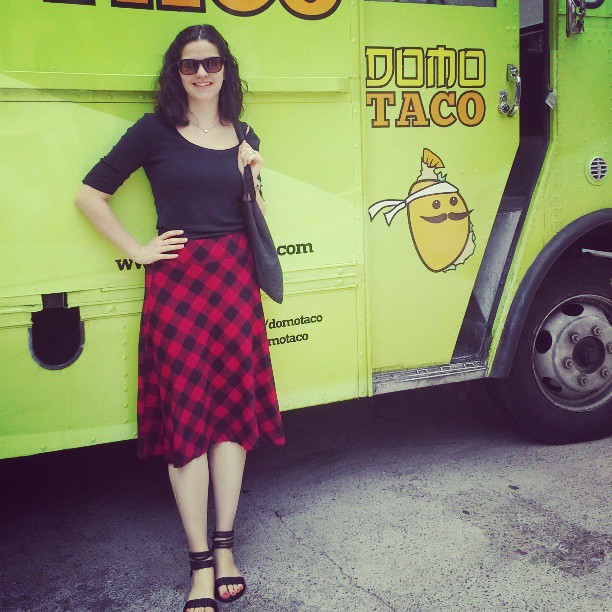 Food Truck: Domo Taco Shirt: J. Crew Factory Skirt: Chaps Sandals: Easy Pickin's Bag: Strand Books Sunglasses: Michael Kors
Domo Taco was yummy, too! I got three tacos (without the sesame creama – dairy free, over here!) and some friend gyoza.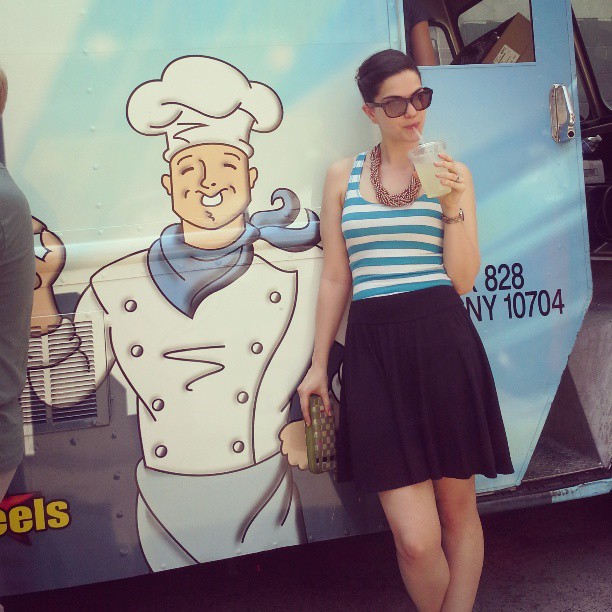 Food Truck: Trusty Truck Striped Tank: Zenana Skirt: Old Navy Wallet: Pylones Watch: Fossil Sunglasses: Michael Kors Necklace: Century 21 Sandals (see below): Urban Outfitters
Trusty Truck had great lemonade (that's what I'm sipping) but I brought my lunch that day so I couldn't try out the food. I did, however, try the fries and the "special sauce" because the super nice food truck guy gave Britney and I a little sample.
I've seen a grilled cheese truck, a cupcake truck – even a lobster truck! But the coolest truck was one another co-worker found: A fashion truck. Say what? That's right. Nomad, the wandering fashion boutique is a tiny shop on wheels. Cool fashion and trendy accessories make it great. Prices aren't terrible, but a bit higher compared to larger stores, and the heat was a bit much. Overall, very cool! I didn't buy anything this time, but I am going to look up where it goes next and try to stop in again!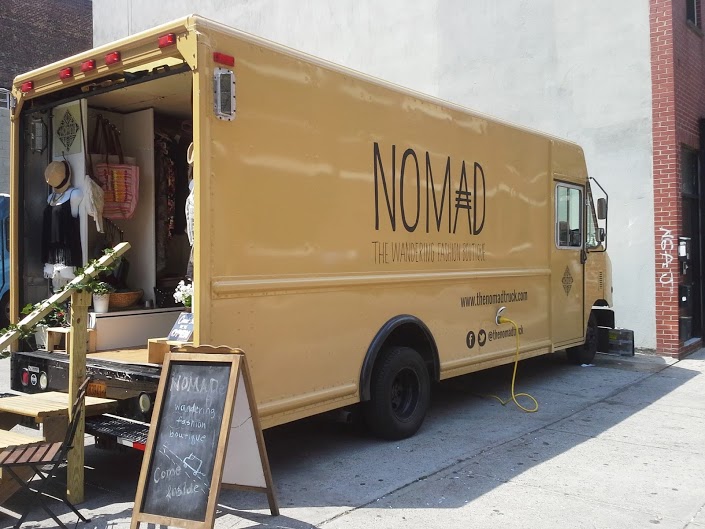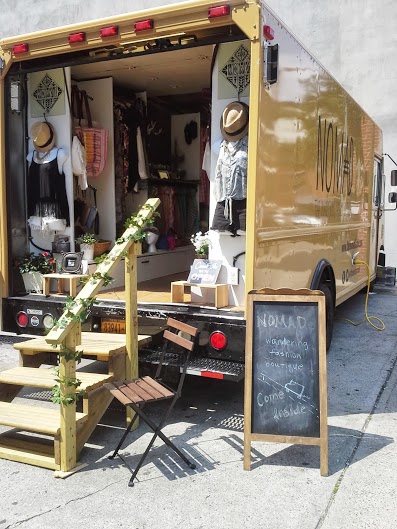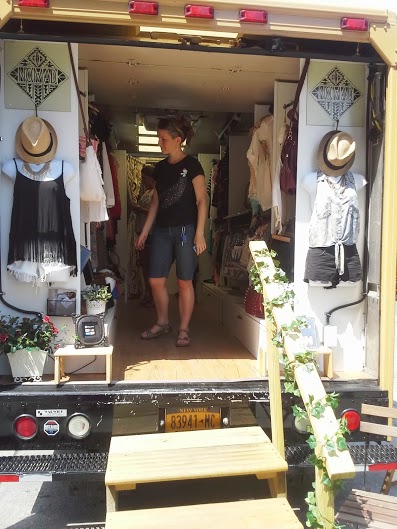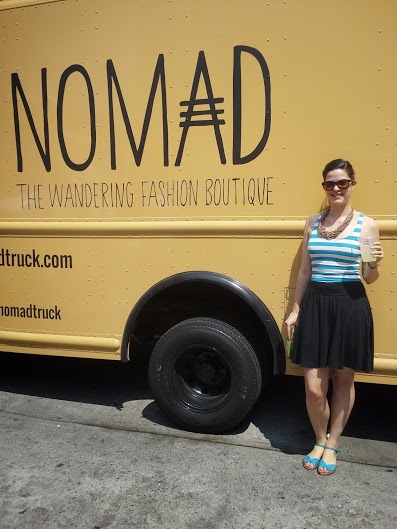 What are your favorite food (or fashion!) trucks? I can't wait to try more!