The Fitters' Formula™
LEARN TO FIT WITH EMPATHY AND SELL WITH CONFIDENCE. TOGETHER.
The Founding Fitters version is sold out, but sign up for
our waitlist to be notified when doors open again this fall.
Less Competition. More Collaboration.
Bra fitters are skilled and highly empathetic people who support their community. And bra fitters need support, too! And we need each other.
Just like every town has skilled folks like mechanics and dentists and lawyers, every town needs a skilled bra fitter with a thriving business and great products. Your community needs you, and you need support too. 
The Fitter's Formula™
At the center of this training is The Fitter's Formula™, a method that you can take home and implement right away to fit with empathy and sell with confidence.
Empathy is the no. 1 skill needed for bra fitters. You'll learn how to use it, along with bra fit foundations and style know-how so you can serve your clients and make great sales.
Hurray for Lingerie™ Community
It's time for a radical change in our industry in the way we train fitters and work together as a community. And bra fitters need support, too! Upon joining, you will be a member of this select group of our first founding fitters and you will have special access only available in this small group and first access to any additional trainings, exchange of ideas, and fit clinic workshops. Let's learn from each other!
Interactive Learning
Intimates group learning including 6 LIVE calls with Kimmay (and replays) where you can engage in interactive exercises, quizzes, live Q&A, and practical case studies that allow you to enjoy learning and enhance your skills. And as a Founding Fitter, your feedback will help my team and I make improvements, as well as influence what specific topics we cover next or bonus classes we offer first. Your input matters!
Support your clients, support your sales.
Increase conversions. Create raving fans. Retain your best clients.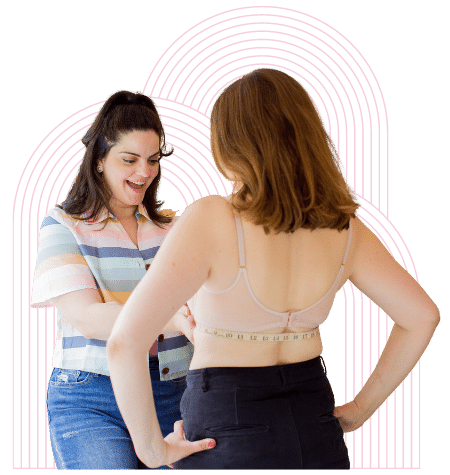 Even the best bra in the wrong size will feel like a bad bra. Read that again.
You can stock your store with the best styles or design the "perfect bra" yourself, but if your client buys it in the wrong size, that wonderful product will still feel painful and look awful.
Your clients need guidance to choose the size and style that will fit them best. Without it, they'll purchase their usual size and wonder why it feels awful. They'll think your store of product isn't for them, return the items, then go and tell 5 friends that it's not a good place to buy bras. Boo!
Instead! You want to help your clients get an amazing fit and feel comfortable and confident in their bras so that they not only buy 5 more, they also tell 5 more friends how amazing the store and service is.
This is how compassionate bra fitting and The Fitter's Formula™ works to increase conversions (and your average sale), create raving fans who tell everyone else, and retain your best clients to come back again and again. Ultimately, serving and supporting the client = Hurray!
Kimmay Caldwell has been a bra fitter since 2005, fitting thousands of folks in NYC (and around the world) from AA-N cup and beyond. Her Bra Fit 101 with Compassion workshops at the Salon International de la Lingerie are always extremely popular, with attendees coming from various countries specifically to watch her presentation. Spots quickly fill to standing room only. She's a regular on The Rachael Ray Show and Today in the USA, and The Marilyn Denis Show in Canada sharing her heart and expertise with millions at a time. And her blog, Hurray Kimmay, is popular with brand partners and consumers alike. She's committed to no airbrushing on her content, and to inclusivity and compassion in the fitting room. Now she's thrilled to support bra boutiques and fitters around the globe with her first in person hands on workshop and soon the online version!
By becoming a Founding Fitter you'll have the most intimate access to Kimmay and your fellow fitters with 6 live calls and support sessions.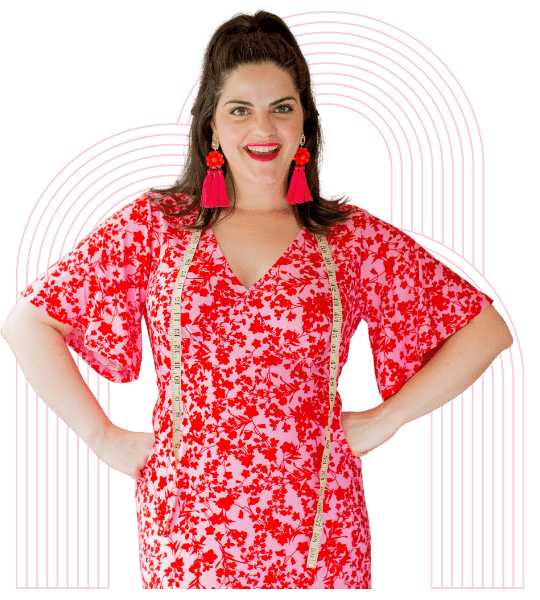 Are you one of our first Founding Fitters? 
Less competition….
More collaboration. 
More community. 
More collective energy. 
More compassion. 
More hurray!
Bra fit foundations training and The Fitter's Formula™ taught by Kimmay 

Six live calls over an eight-week period with Kimmay, where we co-create together (exclusive to our Founding Fitters program!).

Calls will be held via Zoom for 60 minutes in length. The dates are July 18, July 25, August 8, August 15, August 29 and September 5 and at 6 pm Eastern.

Access to recordings of all calls stored in your private member portal.
Opportunity to have your personal questions answered (things that matter to you and your shop the most, you will get to ask this and I'll include it in future content).

Topics covered:

How to use compassion and empathy in the fitting room
Fitting folks with differing needs, abilities, and bodies 

Hurray for Lingerie™ Community:

Idea and knowledge exchange with your fellow fitters and industry professionals
Community and support 

Official Certificate of Completion
Spots are very limited and our Founding Fitters get access for the lowest price we'll offer. 
Let's change the way people view bra fitting. Together.
"Kimmay Caldwell can actually make bra fitting as jaw droppingly exciting as the thrillers I read right before I go to sleep at night."
Rachael Ray on The Rachael Ray Show
Who is this for?
This training is for lingerie industry professionals (or soon to be's!) such as bra boutique owners, mobile bra fitters and personal bra shoppers, online bra shop owners, bra company employees (such as the marketing team, designer, etc), freelance bra and intimates professionals. If you are related to bra sales or serving folks with undergarments and fit is important to you, this is for you.
The level of this training is introductory, however folks of all stages are welcome. Not only is a refresher good, we'll be co-creating The Fitters' Formula together as well as introducing some concepts or an approach that might be new. Plus, you'll have full access to Kimmay and your fellow fitters to ask more expert level questions.
What is the schedule? How much time?
We'll meet 6 times over 8 weeks together. 
Calls are 1 hour long and include a lesson plus Q&A and collaborative time. 
Calls will be recorded and uploaded 48 hours later if you need to catch up or want to re-watch. 
Our six calls are at 6pm ET on these Tuesdays: 
July 18
July 25th
Aug 1 (no call!) 
Aug 8
Aug 15
Aug 22 (no call!) 
Aug 29
Aug 5
Hurray!
Do I need to attend all six calls?
We are keeping this first Hurray For Lingerie sessions intimate, and are looking for committed fitters who want to come train, provide feedback, and learn alongside each other. You can expect a small and engaged group of fitters of various levels of experience so you can connect and grow together. 
That said! We know that things come up. If you need to miss a call you can watch a recording. 
We also have 8 weeks together with built-in "off weeks" to catch up. 
Do you offer a payment plan?
Yes! You can pay in full for $497 or two installments of $259. You'll save $21 when you pay in one payment. 
Please note: this is the lower investment option we are offering for this program. Our Founding Fitters get this special rate as a thanks for participating in our calls and providing feedback.
So if you know you're in, this is THE time to sign up.
What if my question wasn't answered here?