How do you want to feel in your bras (and life)?
*Please note that in person and virtual bra fittings are currently on hiatus! If you want information on bra fit, please go to the Underneath Resources page*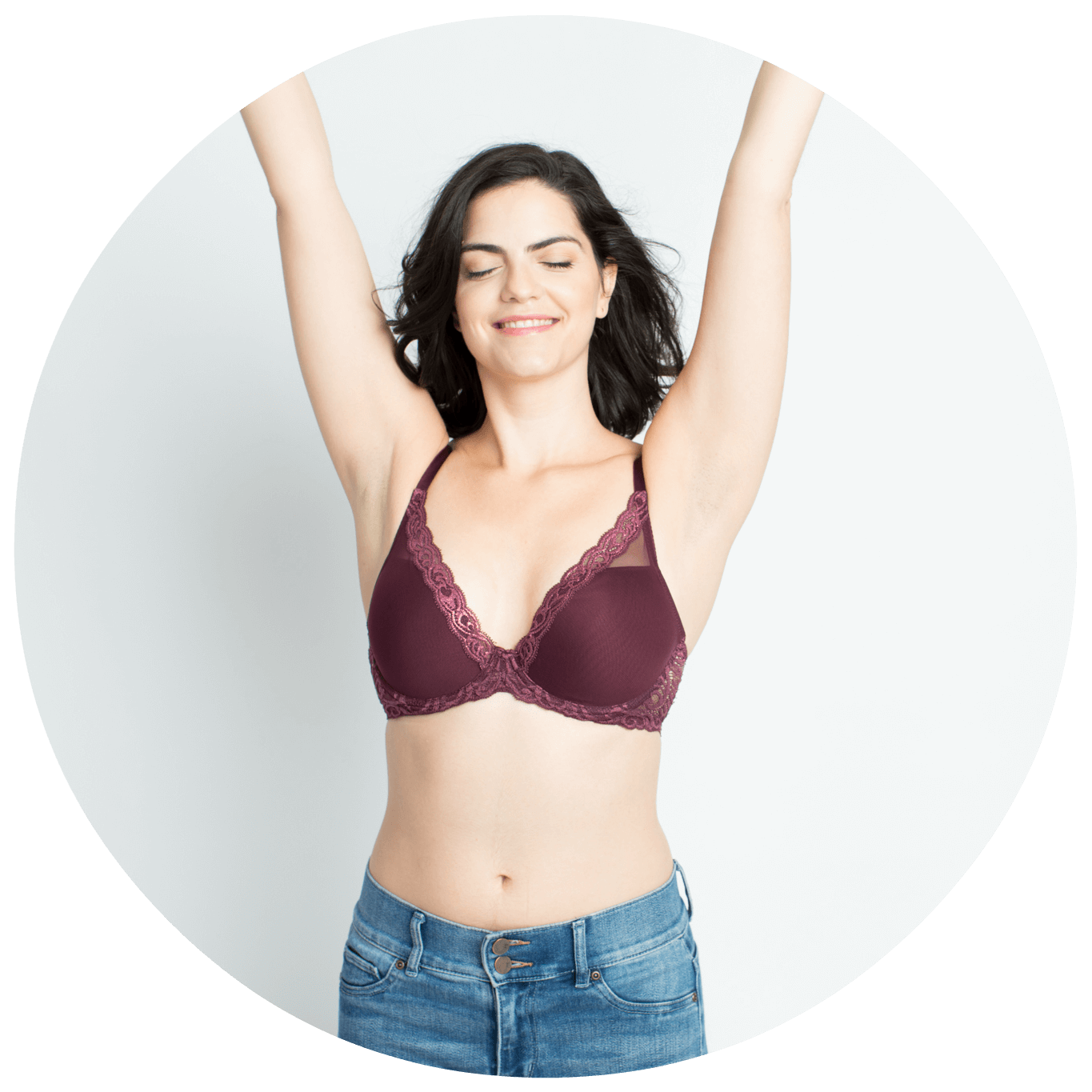 Imagine feeling
free, open, lifted, held, supported,
comfortable, and light.
It is possible. It is yours.
Let's uncover your most
comfortable and confident self together.
Let's say
hurray on the inside, outside, and underneath together.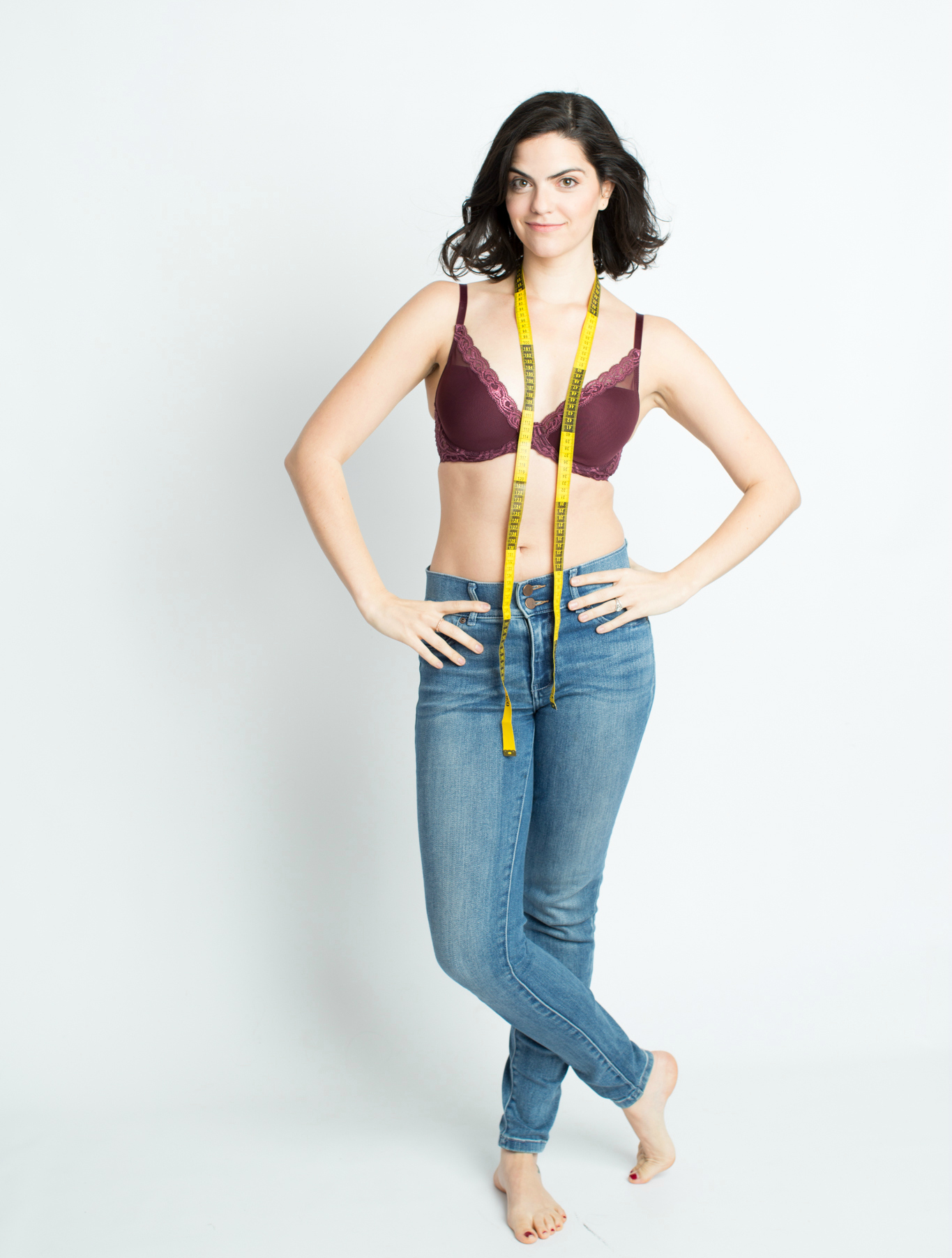 Hey there. How do you feel in your bra? Does it hurt you? Is it riding up? I know. I get it.
You've tried everything.
You have measured yourself before and tried on 10 bras, only to feel like you're guessing if they fit in the end.
You have gone to a shop to get a fitting and your bras still don't feel right.
You just don't have the time to figure out what the heck the difference is between a 32DD and 34E.
You've got a big purpose in the world, and your undergarments shifting around and pinching are getting IN. THE. WAY. of you saying hurray.
I'm here for you! With years of bra fitting experience for AA-N cup sizes since 2005, I'll guide you to your more comfortable, confident self.
*Please note that in person and virtual bra fittings are currently on hiatus! If you want information on bra fit, please go to the Underneath Resources page*
I offer
more

than just a bra fitting.
I provide a
soulful

approach to personal bra shopping and undergarment education.

We'll go beyond what the measuring tape says and discover which bras and other lingerie lovelies really make YOU say hurray. Whether you're looking for everyday basics, solutions for specifics outfits, or special occasion sassiness, I got you. I truly believe that wearing well fitting undergarments can free you to stand tall, lead with your heart, take on the world, live your best life, and love your body. In short: let's say hurray inside, outside, and underneath™. Hurray for lingerie!
I felt loved and honored that Kimmay could so easily find the great in my boobs as well as providing hope for solving and understanding for my
brablems
. She evaluated and complimented my strengths and what type of bras would accentuate those attributes. I
can not say enough how
happy and comfortable I was with Kimmay guiding, teaching and being there with me!
Ready to say hurray?Choose your fitting! 
*Please note that in person and virtual bra fittings are currently on hiatus! If you want information on bra fit, please go to the Underneath Resources page*
Mini Boost:
In-Person Bra Shopping, Education, & Coaching
In this one-on-one experience, I will personally guide you to find your most confident and comfortable self with a bra shopping experience like no other. Get fit by the most soulful bra fitter in the business. This package includes a two hour bra shopping trip, and two coaching sessions (one before and one after) to get to the heart of how you want to feel and provide you with the knowledge and practices to get you there. This mini package is especially great for those who want to focus on feeling comfortable and confident in their undergarments and in their bodies. You'll feel refreshed, with a brand new bra wardrobe, and with new found knowledge and confidence
Exchange: $800
Three sessions total. This fee covers two hours of in-person service. Additional time is billed at $200 per hour in 1/2 hour increments.
Virtual Bra Coaching
This "fitting" experience can take place from anywhere in the world! Instead of shopping together, you'll sit down to a video call with yours truly from the privacy and comfort of your own home. We'll discuss proper fit, take your measurements together, and find your bra size starting points – and even go deeper into how you can truly say hurray for your body on the inside, outside, and underneath. Get an honest and expert opinion on how your current bras fit, as well as personalized suggestions for where to shop and what kind of bras to look for. This is especially great for those who need a refresher after at fitting with me, or who needs an expert opinion on where to start. Ask me anything about bras, bra fitting, bra sizing, and bra shopping!
Exchange: $97
This is a 1 hour session. Additional time is billed at $125 an hour in 1/2 hour increments.
New! Uncover Your Hurray 
Bra fitting is just one of my many tools we can use together. I'm using my years of meditation and coaching practice, along with bra fitting knowledge, to create a one of a kind offering just for you. In this coaching relationship, we'll discover how you truly want to feel, and uncover it from within. This is for those who are nervous but excited to uncover their hurray on the inside, outside, and underneath and need guidance over three, six, or twelve months.
Think you're ready to say hurray? Explore the Uncover Your Hurray program with Kimmay.
Here's what people are saying about
bra shopping and undergarment education with me!
My bra fitting with Kimmay was
super
efficient, easy, and fun!
When Kimmay left, I felt empowered, more knowledgeable, had a follow-up visit to purchase new, correct-for-me bras, and have been able to use my newfound knowledge to help friends who also struggle with their own bras. I have highly encouraged them to seek out Kimmay's help. I had such a positive experience, that I have already shared stories about it with multiple friends and will continue to do so. I certainly feel more knowledgeable and braducated. Thanks, Kimmay! 
I've been wearing all of my new things and it's so fun to be able to switch around my bras and not be stuck in the same style. My husband especially has loved them. My clothes fit so much better and I feel like I have a shape again. 
I KNEW my bras didn't fit, and I thought it was time to treat myself with some self-love.
I was excited to get rid of bras that no longer fit me, to find my actual size, and get quality bras that fit my form like a glove! I was nervous about what to expect, since I've never done it before. She really knows her stuff! She knew exactly how to measure me, and quickly zoned in, like a glamorous hawk, to pick out the best fits and styles for my body. In the end, every piece fit like a glove! I felt held by my undergarments, rather than annoyed at adjusting them! It is everything to feel held by clothing so close to the heart. It helped open a new door to me on self-care. It was a liberating discovery! 
Now I know my size and can go into the stores confidently, knowing what works for me. 
I was overjoyed by the variety of bras that we found for me and how comfortable they were. I feel sexier just knowing that these amazing options are in my drawer and I feel excited to wear clothes that are already in my closet differently because I can support them differently! I wouldn't change anything and I'm so glad that I went in open minded about my budget so that I could go home with so many amazing things! It was incredible. It changed how I see lingerie and I see the value of including this mentality in the other ways that I focus on my self care. I didn't think that this experience would make me feel this beautiful! I could never find bras that were the right size around the rib cage and that I actually filled the cup in. I also found a wide variety of kinds of bras and they are all comfortable! Every woman should do this!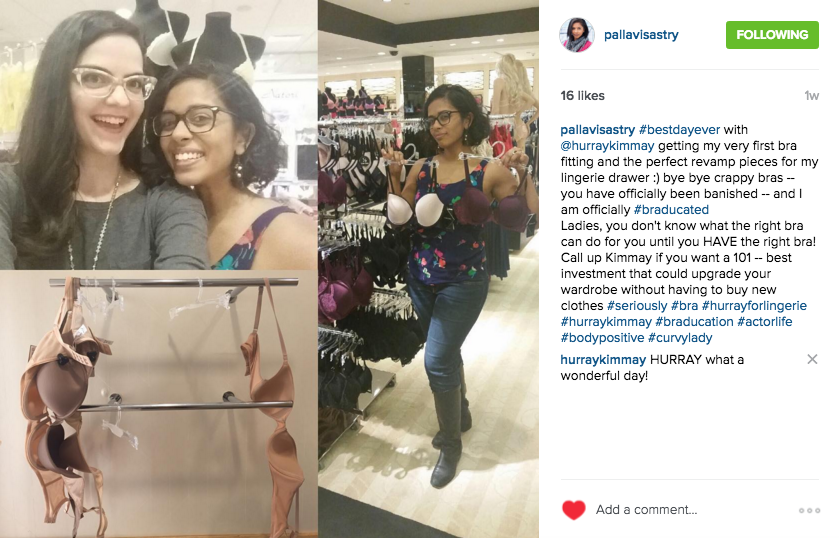 Other ways I can help: 
Top 5 Bra Fit Tips: Download my Free PDF and Video guide all about how to tell if your bra fits. Whether you're shopping for bras with a fitter, at a department store, or online, you can use this guide to say hurray!
Resource Page: Use my Resources Page which has guides on everything from Can More Than One Size Fit? to How To Wash Your Bras. You'll learn the basics and take a step toward saying hurray for lingerie.
Find Your Bra Size Starting Points: Start here for the basics. This will guide you to finding two bra sizes to start with when shopping.