On the go for the holidays? Here's a round up of a few of my favorite bras and bra tips for traveling and staying at your in-laws.
Hurray for Non-Underwire Bras
I am very adamant that if you're wearing an underwire bra in the right size, it should be so comfortable that you can hardly even feel it. In fact, you can find a softer underwire and band option from brands like Simone Perele and Natori. But that's for another post, because that being said, an underwire is an underwire. And whether you have a health issue, or a omg-I'm-traveling-across-the-country issue, it's good to have another option. And because most underwires are firm and most bodies are not made of steel (cough cough – that means all of us), it's totally OK to try a non-underwire travel bra. Here's what they're great for:
Wearing in the car, plane, train or bus. When you're traveling for hours at a time, comfort is important. I am NOT a good traveler. I totally admit it. So the last thing I want to worry about it my bra. Try a softcup (just another name for non-underwire) bra that fits well and supports but offers supreme flexibility and comfort. I suggest a smooth style in a neutral color if that functions best under your travel clothing, but feel free to have a little fun with lace, patterns and prints. 
Sleeping On most nights, I sleep sans bra. But when I travel, I sleep in a soft non-underwire bra under my PJ's. This gives me some soft support and coverage and nixes the whole awkward possibility of running into my father-in-law in a middle of the night bathroom run without a bra on. There's also a lot of debate surrounding the question if sleeping in a bra helps keep breast tissue firm. There's room for argument on both sides. Personally, I have seen a difference in the fitting room with many clients who have worn a bra to sleep. Beyond that, many women find the night time support to be a Godsend from "unruly breasts flopping around at night". Their words, not mine. Whatever you do, if you decide to sleep in a bra, make sure it's wire free, please.
Breakfast with the family. Sleeping in my non-underwire bra also makes it easy to wake up and meet everyone for breakfast without having to change or slip a bra on under my pajamas. The holidays means everyone is over at my in-laws place. It also means that extra layer and support is that much more necessary. I love my breasts, but I don't want everyone in my husband's family seeing them. Just him.
Going through security. I have not actually experienced this myself, but some clients in my bra fitting days told me that they've been stopped by the TSA for wearing metal because of their underwire bra. Has this happened to you? Do tell. Besides comfort, looks like you can avoid the handsy pat down if you go without the wire.
Here are a few of my favorite styles. Some I've worn myself, some I've helped hundreds of women wear, and a few I look forward to trying soon.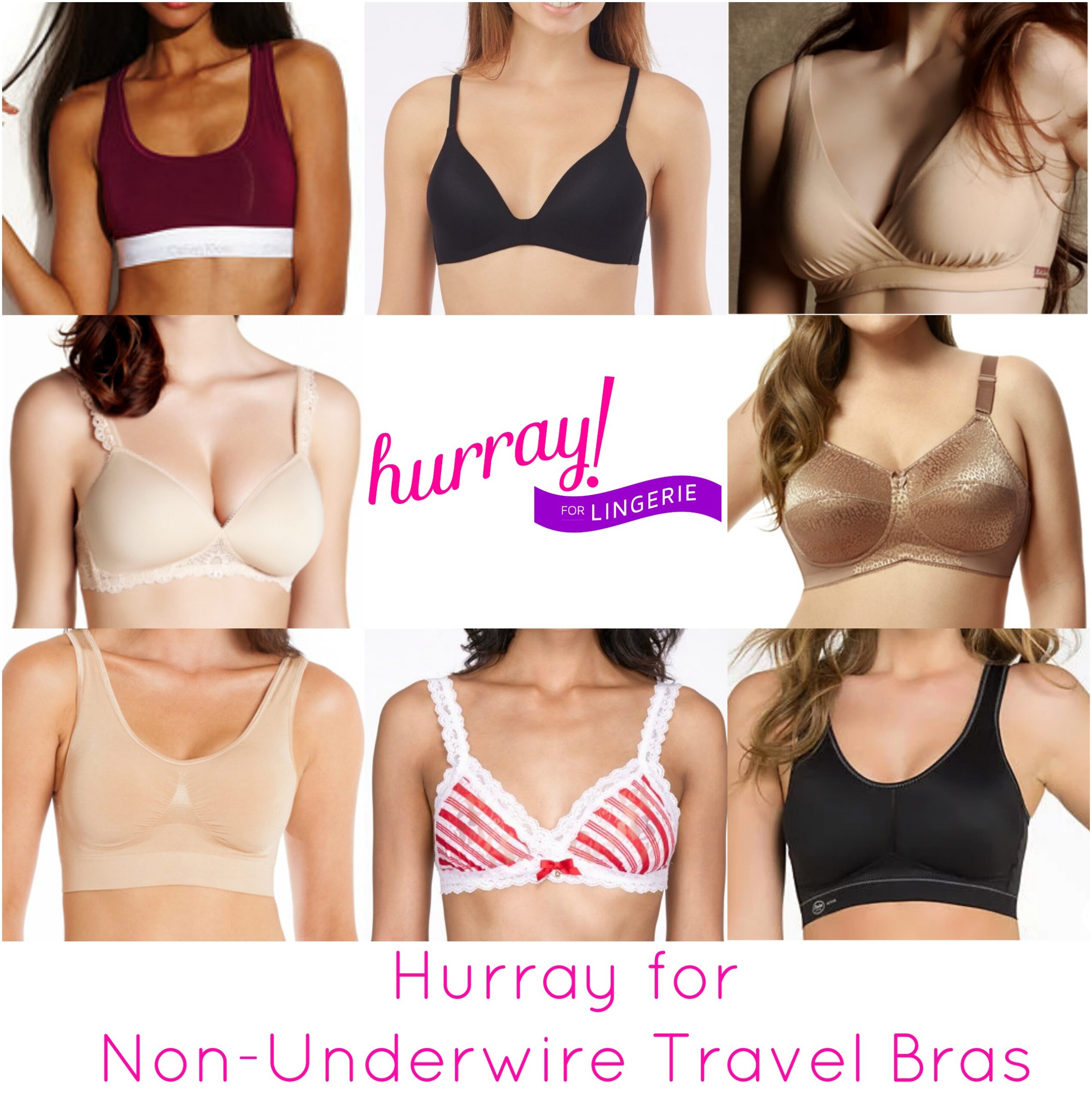 Recently I've been wearing this Calvin Klein Modern Cotton Bralette at night and running errands around my neighborhood. I even wore it to a low key yoga class the other day to test it out in a low impact workout situation, and because the racerback worked with my tank top. I'll admit this is one of the least supportive and most low cut styles I've ever worn, which means it's not for everyone. But the soft, smooth cotton and wide band is really comfortable, and easy to wash and wear. I would not recommend these for athletic activities, but a restorative or low impact yoga class? Sure! Traveling across the country? Sure! Sleeping? You bet!

This Gossamer Mesh Unwire Uplift Bra is completely different than the other bras on this list. I love OnGossamer for their very breathable mesh material (their thongs are super comfy and barely there!) and great price point. A few highlights: smooth molded cups, a little push up padding, available in 30 bands, and a low plunge. Great for everyday wear or running errands? Totally! Traveling across the country? Sure! Sleeping? Probably not (the cups are a little firm).
OK so this may surprise you… but this next bra is actually a nursing bra. I KNOW I KNOW STAY WITH ME. I've helped hundreds of women with the Bella Materna Anytime Nursing bra. It's so basic that it's great for any woman – nursing or not. Here are the highlights: Super soft, smooth cups with a removable lining and optional coverage, adjustable straps, a soft wide band, no nursing bra clips. And the best part: there are six hooks on the band. SIX. Because pregnant and nursing women experience fluctuations in weight and body shape, it's perfect. But that also makes it possible for this S/M and L/XL style to fit many different bra sizes and women.
The Elila Leopard Lace Softcup Bra is one of the best options for a full bust. Available up to K cup and a 50 band, this bra is no joke. Elila has long been my go-to for superior support for full busts without an underwire. This newer addition is one of my favorites from this brand. You can even check out this video about this style – shot, edited and narrated by yours truly. Highlights: Available in sizes 36-50, DD-K cup, and three colors (including two neutrals for different skin tones), and super super super seamed support and firm band. OK for everyday? You bet! Traveling across the country? Of course! Sleeping? Mmmm it's not as soft as other styles, so I'd say mostly no. But for the very endowed who are looking for nighttime support, this one still gets a Hurray.
I can not even count how many women I've helped with this Anita Activity Comfort Wire-Free Sports Bra. Although this is a sports bra, women wear it for all sorts of reasons. In fact, I had one client who only wore this bra. Everyday. And my former boss, Linda the Bra Lady herself, is known for wearing this bra while traveling. Highlights: Available in A-G cups, super smooth, full coverage, wide adjustable straps and band. Good for sports? Yes – but only up to medium impact. Traveling across the country? Absolutely. Sleeping? It may be a little high impact for some, but this was a go-to sleep bra for a pregnant client who had very sore breasts and desired a firmer support. So, sure.
I mean, I had to have a little fun. Hanky Panky is one of my favorite brands in general, but I have yet to try one of their bralettes! What I do love are all of the fun colors and patterns (this candy cane peppermint style is just the beginning). Not exactly the most supportive, these little bralettes are probably best for those who want light support and a bit of sass. Available in a S/M/L type of sizing, and sans back hooks or sliders, these are not adjustable, but still offer some support, coverage, and tons of cuteness. For wearing everyday? Only if you're ok with the less supported look. Which some women are. I just helped a young woman "graduate to adult bras" (her words, not mine), when she left her bralettes behind for molded, underwire bras that fit well and felt great. Traveling across the country? Sure, but for some these may not offer enough coverage to wear in public. Sleeping? Yeah!
I have yet to try the Love-It Bra, but as far as travel bras go, this one could be a big winner. Although it doesn't have the adjustability, it has more coverage than other bralette styles. It also has a slight shirring over the bust that may help with the whole uniboob problem, and the soft wide back and band will be super smooth under clothing. Bonus: the foam lined cups are great for anyone who's nervous about nipples showing through (again, the breakfast table conundrum). Wear everyday? Some women may, but I'd keep this as a weekend or sleeping bra. Traveling across country? Sure! As long as it fits your shape well. Sleep? Absolutely!
Simone Perele makes some of my favorite bras of all time. I have one of the underwire bras in the Caressence group in four colors. I kinda love it. So it's no surprise that I love this Caressence 3D Wireless bra. The lace is actually infused with aloe. INFUSED WITH ALOE. I mean, HURRAY. The 3D molding is also very breathable, soft, smooth and flexible. Great coverage without the ultra firmness. Also features pretty adjustable straps and band. This cup is somewhere in between a triangle and a full coverage style, so it may not work for those with a very full shape. Wear everyday? Sure, for some! I helped one client go from an oversized and overworn sports bra in a 40D to this bra in a 32D. Not only did she feel supported, but she also felt comfortable and feminine. One of my favorite fitting memories. Traveling across the country? If this fits your bust it's a great option! Sleeping? I'd leave this for day time and invest in a more casual style for nighttime.
Non-underwire and softcup bras are easy to pack (no worry about bending the underwires or, in some cases, denting the cups) and easy to wear. Some women love to wear them everyday, while most (like myself) prefer to keep them for traveling and sleeping.
How about you? Do you wear a special bra while traveling or over the holidays? Let me know in the comments below or shoot me a tweet @HurrayKimmay.
Hurray for the holidays!