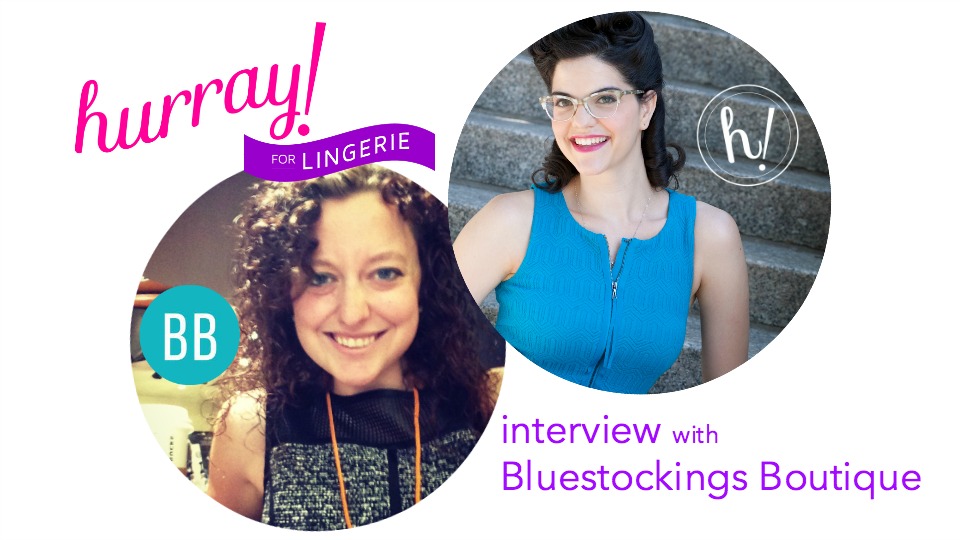 Hurray! Today's Hurray For Lingerie episode on Hurray Kimmay TV is soooo awesome. Have you ever felt like your lingerie options were limited, or didn't match your personal tastes, or offer you something that felt really YOU? Then you're going to want to hear from Jeanna Kadlec, the founder of Bluestockings Boutique.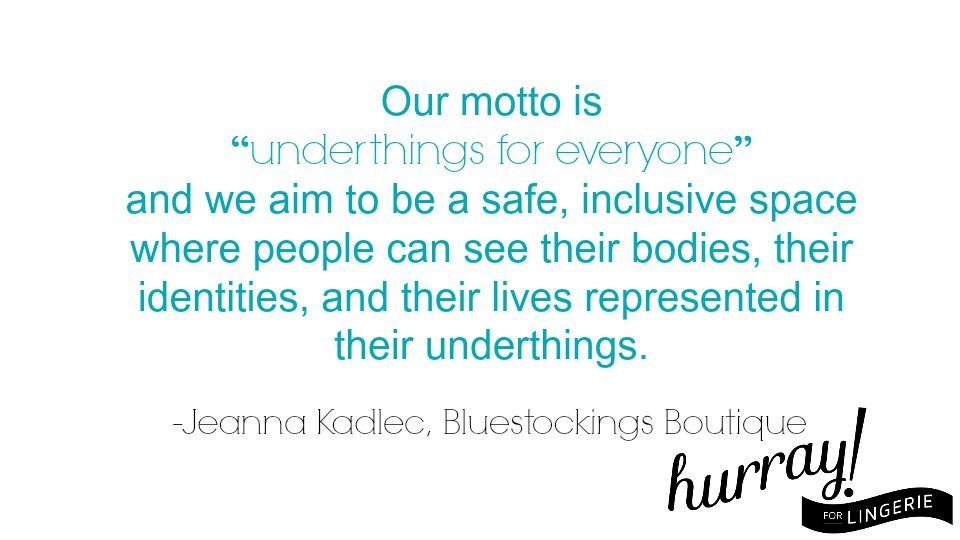 The name has an academic history, as Jeanna explains: "Bluestockings were a group of badass literary ladies in 18th century London who hosted big get togethers where the leading intellectuals of the day, men and women, would come and talk. The name (of course) gradually turned into an insult for a forward-thinking woman who didn't know her place". With that in mind, Jeanna set out on a quest to provide "underthings for everyone". And while her mission is tightly aligned with the LGBTQ community, she's not leaving anyone out. And, in her mind, Bluestockings is just the start.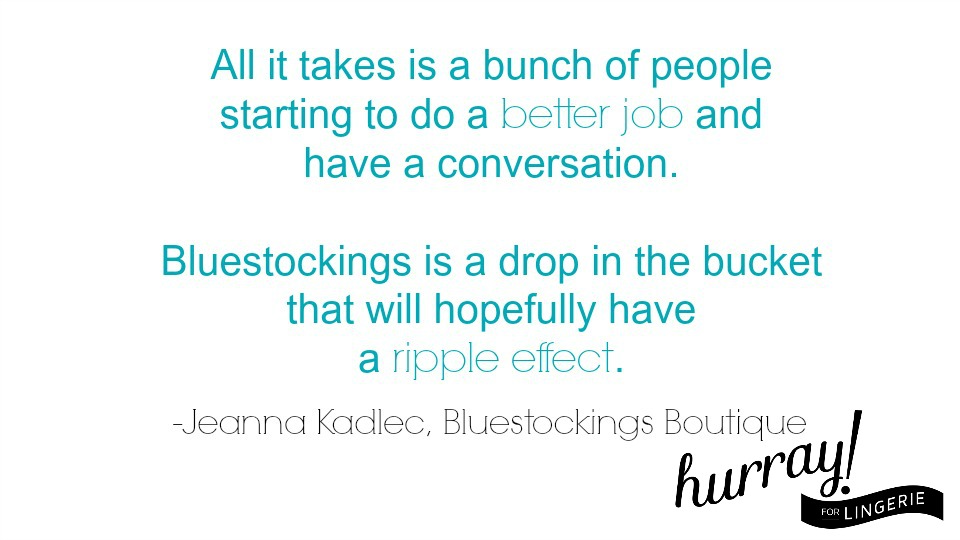 I've had a truly wonderful time getting to know Jeanna and her mission, and getting to gab with her about lingerie, human rights, self love and expression and more – it really makes me say "hurray!". She shares my understanding of the importance of investing in good undergarments, and how what you wear underneath it all can affect your inside and outside, too.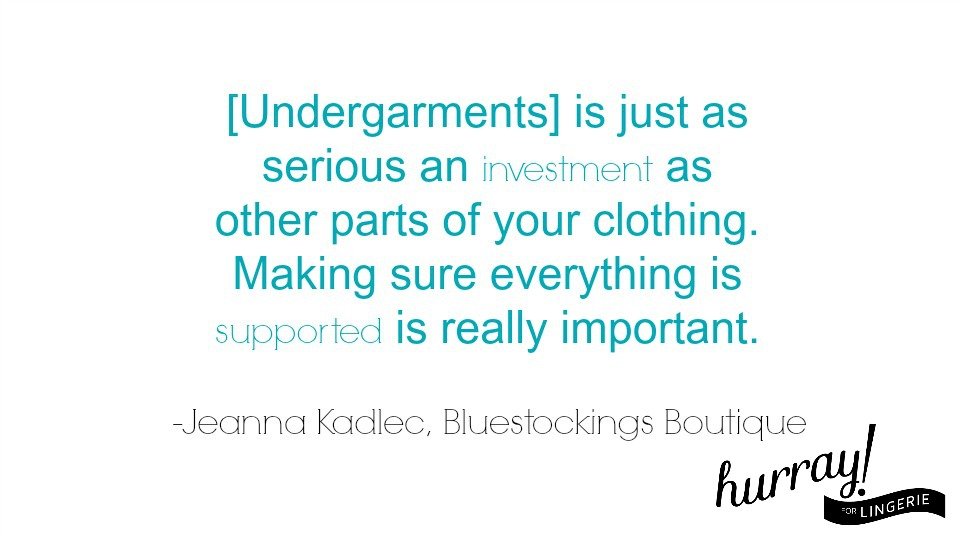 As a fitter for more than 10 years in NYC, I've helped many LBGTQ customers. And while navigating the situation and other customer's views has not always been easy, I'm glad to say that my city is far more safer for anyone who wants to find comfort and confidence in their undergarments than other places in the country or the world. That's not true for everyone, however. Jeanna, who herself is a lesbian and is based in Boston, and her boutique are making a clear statement. She is saying: Bluestockings is a safe place for anyone to experiment, shop, and learn about lingerie. That REALLY makes me say HURRAY.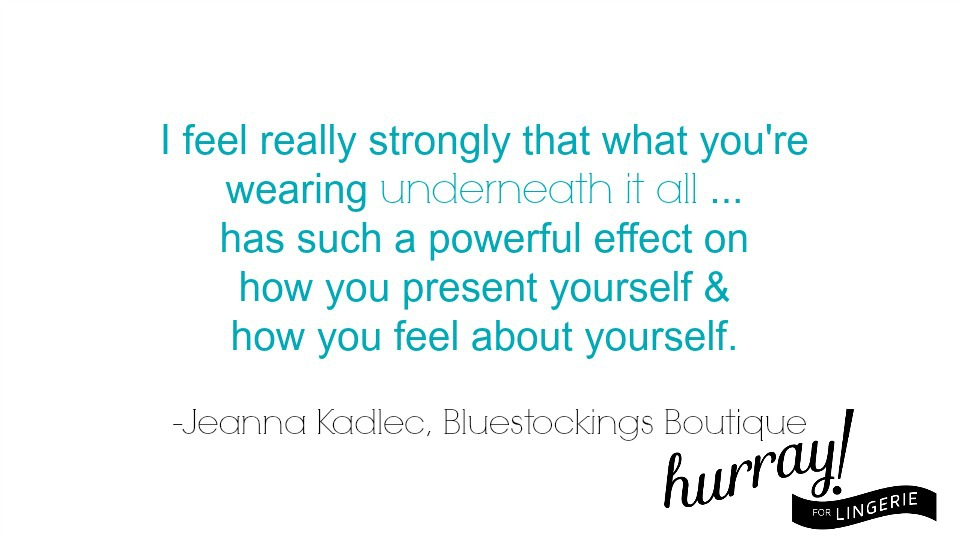 Watch the video, listen in on our conversation, and join us in the comments below or on Twitter: @bluestockingsbo and @hurraykimmay using hashtag #hurrayforlingerie.
And if you want to get involved and donate, you have a few days left to help Bluestockings Boutique reach their goal on Tilt. PS: Read this wonderful interview with yours truly over on the Bluestockings Boutique blog.